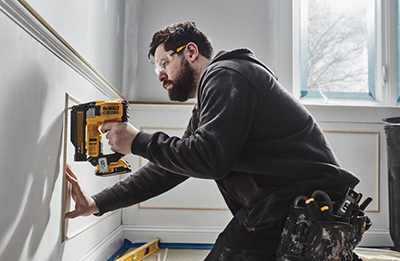 DEWALT is releasing a new 20V MAX 23GA Cordless Pin Nailer as a bare tool (DCN623B) or as a kit (DNC623D1) which includes the 20V MAX compact 2.0Ah battery pack as well as the 20V MAX charger which will be the newest member of the ATOMIC compact series. This pin nailer will allow you to drive nails with ease, requiring no hoses, compressors, or even gas cartridges. This pin nailer can get you the hold you need with minimal nail visibility.
This pin nailer is a perfect tool for carpenters, cabinet makers, remodelers, furniture builders, general contractors, or DIYers. It's great for long jobs for setting and securing multiple moldings and/or returns for clients. Get a professional look every time on your projects with less stress and less hassle.
Features
This cordless pin nailer is equipped with many great features. It's designed to drive 23 gauge pin nails measuring between ⅝ in. and 1-½ in. with its high-output brushless motor. There is a tool-free jam release system, as well as a tool-free depth adjust giving you the ability to control the power and depth just right.
It also minimizes downtime, giving you control to determine how close and how much power you will need. There's also a low nail lockout system that will have a LED indicator that will let you know when you need to reload. Per charge, it can drive up to 2000 nails.
20V MAX Cordless Pin Nailer Bare Tool
20V MAX Cordless Pin Nailer Kit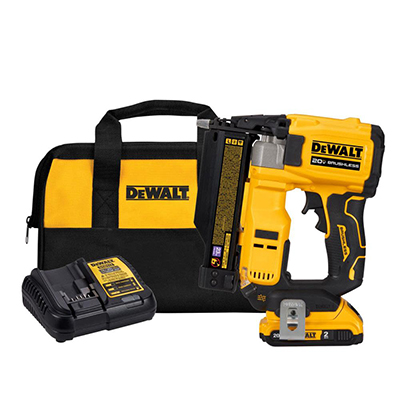 Shop the new DEWALT pin nailer and other DEWALT products at Acme Tools.