DeWalt announces their new Fully-Automatic .27 Caliber Powder-Actuated Tool (DFD270). This tool will make fastening to concrete, steel, or I-beam, hassle-free.
Construction and maybe even renovation can require that you add something on top or in front of the concrete, or other base material you're working with. Perhaps you need to secure wood to the floor for a safety issue, or maybe you need to put up some sheet metal. Either way with the DeWalt DFD270 you can secure them faster and have more free time to do actual work.
What's New?
Meant for rapid use this tool features an automatic piston return and load indexing between fastenings. This feature makes it so that instead of having to keep readjusting the machine every time a nail is fastened, the tool will do it itself. Perfect for constant use in high-capacity commercial jobs.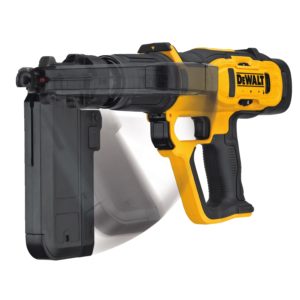 Able to drive both 8mm and .300-inch head fasteners in lengths of ½ inch or 2-⅞ inch, and even ¼-inch thread studs. The versatility and ease-of-use of the tool come to its power dial and .27 caliber load colors. With the power dial, you can adjust to suit the denseness of the base material after you have done your surface test. That way you avoid wasting fasteners that couldn't penetrate the floor or wall, and you won't compromise the integrity of it as well. With the caliber load colors, you can quickly get the right nail for the material that will give you the secure hold you need.
The tool also integrated the new line of redesigned CSI (Concrete, Steel & I-beam) pin by DeWalt. These pins have a range that includes both single and collated with .145-inch to .157-inch diameter and ½-inch to 2-7/8-inches in length. These pins combined with the tool will give low—velocity direct fastening system designed for use in steel and concrete applications.
What also makes the Powder-Actuated Tool useful is the next feature.
Accessories & Accessories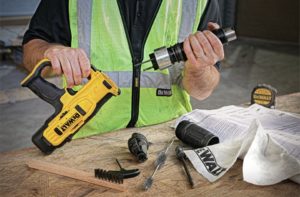 Now, the tool disassembles tool-free for easy cleaning and servicing making it very easy to customize as well. DeWalt has a range of accessories that will be sold separately that will enable the device to perform in various trades and applications. Not to forget that with the tool and kits you can also buy the pieces separately. If you were ever to break or lose a part, you can go to your nearest DeWalt dealer and get a replacement.
You can replace a piece of your kit that you lost or broke like the driver pistons or either nose attachments. You could also order a replacement cleaning kit if you misplaced the one that came with the tool.
Final Thoughts
Working day in and day out in construction you learn that days always bring a different challenge. Securing material to beams, concrete, or steel, should not be one of them. The DeWalt Powder-Actuated Tool (DFD270), will not only give you the flexibility to work on different materials but the security that you know it will stay. Integrating CSI pins will also make sure that these fasteners will stay in no matter the material or the conditions. At this time, DeWalt is projecting a release date during the Summer of 2019.
---
Do you need this tool for your next job? What about this tool has you interested in getting one? Let us know in the comment section down below. After that don't forget to check out our blog for more DeWalt Tool new. You can also find blog posts about new hobbies and how to get started, buying guides, and seasonal tool help.
If you need your DeWalt fix now, head to our online store. You can always find great deals and sales on your favorite brand. Here at Acme Tools, we like making sure that when you work, you can safely and have all the tool you need to Do Your Best Work.