Milwaukee is proud to introduce the Industry's FIRST interchangeable tank solution. This machine is meant to tackle a multitude of jobs with various users in mind. The SWITCH TANK System is taking on roles that usually have nothing in common except that they need a dependable way of transporting and using their tanks.
What's New?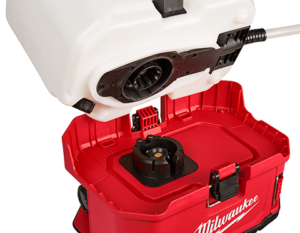 The SWITCH TANK is the industry's first ever interchangeable tank solution. This tool does something that hasn't been done before while expanding its reach into other trades. What it allows is easy use with no manual pumping, with instant, constant, and adjustable, pressure. Not to mention that this machine's design prevents cross-contamination between tanks.
With this tool, you can switch between tanks and not have to worry about keeping things sanitary, or your solutions becoming tainted. The machine's design works as two separate components that interlock to operate — giving you flexibility like never before. SWITCH TANK allows you to keep the same base for all jobs and only switches the tank. A design like this reduces the need for multiple machines and encourages one tool for numerous tasks.
Many Jobs, One Base.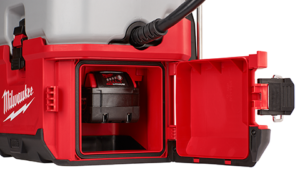 Milwaukee's 2820 SWITCH TANK is a tool that can be used by many professions and works on one REDLITHIUM XC 3.0 battery. With that one battery, you can run 12 tanks of spraying before needing to recharge. Run through an entire job without stopping and swap batteries when they get low. When the battery does need a charge, with a rapid charger, plug it in and get back to work in no time.
Swap out the tank for your job of the day and not have to worry about recalibrating anything in the tool. The tank itself is the portion of the machine that will have the needed pump, hose, and accessories for the job. You can get the SWITCH TANK in different kits and purchase separate tanks when you need more. Each kit will come with the M18 SWITCH TANK Powered Base and the corresponding container, as well as the M18 battery and charger.
Who Can Use It?
The best thing about this tool and its design is that it is a multi-use tool. If your job requires spraying, or uses water, you can use this machine. After having this tool you'll appreciate having it around.
For lawn care and lawn maintenance, you can quickly weed a clients driveway or garden. All the while you are never having to kneel or bend over. For concrete curing, you can spray and keep it moist without having to use the burlap sack method. Allowing you to work faster and at a higher volume. Then you have all the regular uses on professional tools that need a constant water supply. For wet tile cutting or keep things well tempered, this SWITCH TANK gives that as well as convenience.
You won't have to wait long to get these tools in your hands. The Pesticide Sprayer Kit and Bare Tool will be available by March 2019 and the Tank Assembly will come later in April. You can also expect the Concrete Sprayer & Water Supply Kits, as well as the tanks, in April 2019.
Final Thoughts
This tool will reduce the need to have multiple pumps on your jobsite and in your car. Eliminate the need for constant pumping and cross-contamination of your mixtures. Continue working all day with the M18 REDLITHIUM battery. Never worry about the problems you would experience with a manual tank system.
---
Are you excited about this tool? Which tank would you use if you had this now? Let us know in the comment section down below. We will update this blog post as Pre-orders become available so you can get this machine in your cart as soon as possible.
Like this article and want more new on Milwaukee and other tool brands? Then make sure to follow our blog to get more new product news, as well as DIY builds, buying guides, and tooltips for your home. Looking to get your Milwaukee fix at a great price? Then head over to Acme Tools online and find great deals on Milwaukee and other brands as well. That way you can always Do Your Best Work.