Exciting news came from DeWalt during World of Concrete 2019, and it's something anyone who handles in construction can appreciate. Revealing two new cordless rotary hammers to the public, these have technology that will protect the user and improve workflow.
What's New?
Sometimes when a company reveals a new tool to the public, they do it one at a time. Not in this case. DeWalt has given the specs for both their FLEXVOLT 60V MAX 2-Inch Brushless SDS MAX Combination Hammer (DCH773) and their 20V MAX 1-⅛-Inch SDS Plus D-Handle Rotary Hammer (DCH263).
First, let's talk about the DCH773 Combination Hammer and the new things this machine brings to the construction professional. To help prevent injuries to the users and hand-arm vibration syndrome the Combination Hammer has integrated E-Clutch and SHOCKS Active Vibration Control. E-Clutch is an anti-rotation system that detects when a tool bind's up or stalls during use. The E-Clutch will automatically shut down the tool if necessary, preventing damages to the machine and injury to the user.
Next, this device also features SHOCKS Active Vibration Control technology which reduces vibration felt by the user. This feature is handy when any tradesperson is using this tool for an extended period. SHOCKS technology prevents the risk of users getting hand-arm vibration syndrome (HAVS), which affects 2 million U.S. workers.
Let's not forget the other hammer that DeWalt has released the DCH263 Rotary Hammer. A compact and lightweight package design for quick movement. Like the DCH773 the SDS Plus D-Handle Rotary Hammer also features SHOCK Active Vibration Control technology. This tool is also compatible with an enhanced onboard dust extractor (DWH2205DH) and is OSHA Table 1 Compliant. This attachment makes the rotary hammer tackle silica dust from any drilling, chipping, or cutting it has to do on the job.
Specs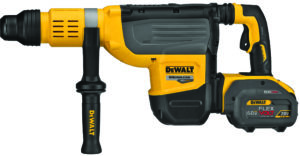 The FLEXVOLT 60V MAX 2-Inch Brushless SDS MAX Combination Hammer achieves 19.4 Joules and 290 RPM for fast and efficient drilling. Running on a high-capacity 12.0 Ah battery for longer runtime and power. The DCH773 is a tool that can go through concrete and is easily adjustable to fit the job. Not to mention that this tool is also Tag Ready and can attach a DeWalt Tag and track its location around the site.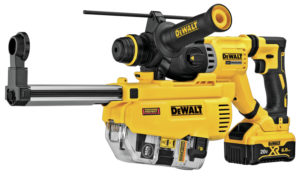 The 20V MAX 1-⅛ – Inch SDS Plus D-Handle Rotary Hammer offers 1,165 RPM and achieves 3.0 Joules in its compact package. Running off a 6.0 Ah high-capacity battery you get constant speed, high-performance drilling, chippings, and a work light to shine in dark areas. All this packed in a 5.95-pound machine that is only 15.89 inches long, making it easy to travel with on the job site.
Final Thoughts
These two tools were made to not only to make working more comfortable for the user but to also protect them. From preventive measures to avoid HAVS and making compatible with dust extractors that suck up silica dust, these tools will improve the jobsite. With DeWalt tools, you reduce the risk of injuries with their integrated technology but also keep track of your equipment with the DeWalt Tag and Tool Connect System. These are scheduled to be released into distribution later in the Spring of 2019.
---
Did you find this article useful? What else were you excited to hear come out of World of Concrete this year? Let us know in the comment section below what tools had you preparing your waller.
Want more DeWalt new? Then follow our blog for news dealing with DeWalt, as well as Milwaukee, Makita, Bosch, and other tool brands. Do you want amazing tools at great prices? Then head to Acme Tools online store where we have deals daily on the biggest brands. Pick your favorite tools or pre-order some and have them shipped to your door. That way you can always Do Your Best Work.