Whether you intend to cruise through rivers, lakes, or canals, failing to have the right tools can ruin your adventure before it gets started. You will enjoy a memorable boat trip once you know what you need for the boat ride. If you're planning a boat trip but still haven't decided what to carry, we've got you covered with a list of the boating essentials to create a memorable experience.
Boating Tool Kit
Cruising the waters with your boat can come with many issues, and anything can or will go wrong at some point. The right items in your toolbox will help you manage the situation seamlessly. You probably have most of these tools in your garage or home and can include them in your toolbox before heading out for the adventure. These boat tools will help you cope should there be an emergency:
Spark plugs and fuses
Battery terminal puller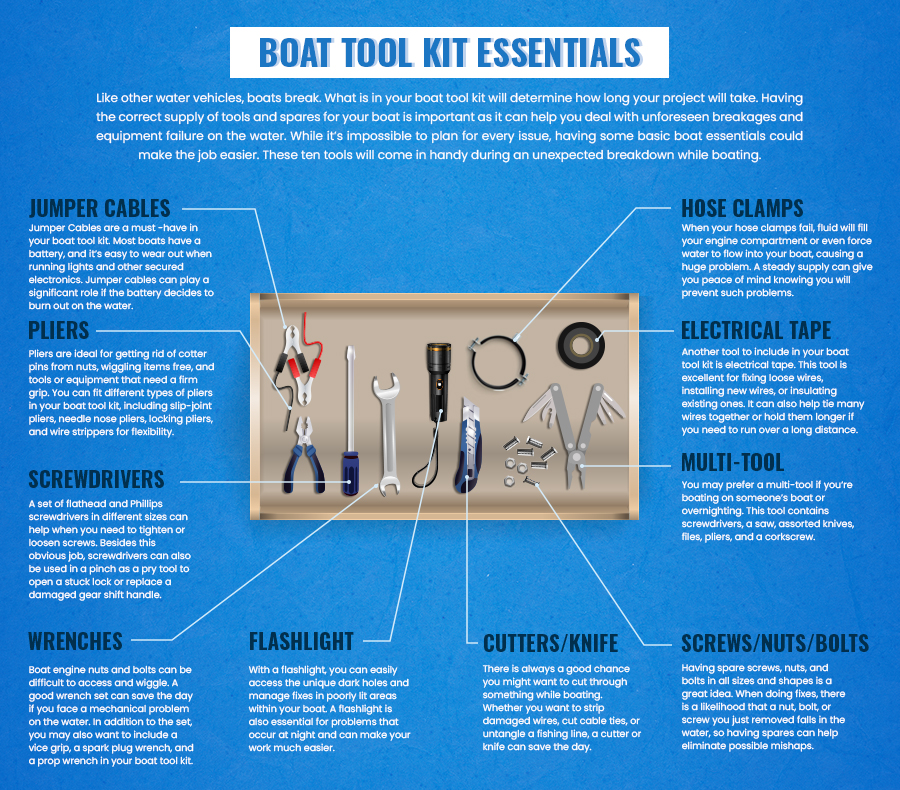 Batteries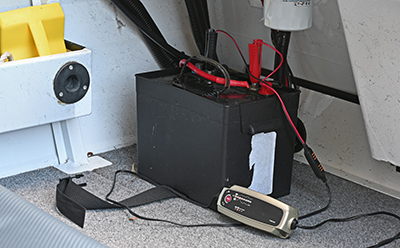 Marine batteries are just as important as vehicle batteries. It is also essential to note that boating is different from driving. On land, you will have access to electricity almost everywhere. On the other hand, it may be hard to find electricity to power your boat's batteries while on the water. Therefore it's advisable to have a replacement boat battery.
Apart from having two cranking batteries to power the boat's engine, you may also need to invest in a multi-purpose or deep cycle battery. A deep cycle battery allows you to power your lighting and other electrical devices without worrying about charging the battery on water. Besides, the deep cycle battery may also come in handy when you want to power your bilge pump, fish locator, or GPS.
Cooler
Nothing beats the feeling of enjoying a cold drink on a hot day during your boating trip. However, you need a cooler if you occasionally fall short of cold beverages or ice during long boating trips. When choosing a cooler for your boat, there are a few essential factors to consider. They include:
Insulation
Size and capacity
Strong
Drainage
Portability
It is essential to ensure you have a well-functioning cooler for your next boating trip or fishing trip. The cooler will help you store food and drinks. You also need to bring another cooler if you intend to go fishing.
Rain Gear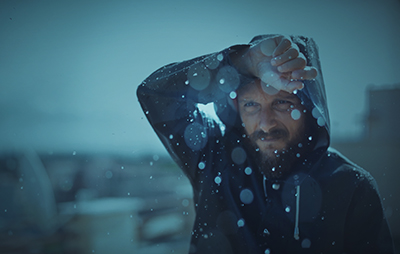 When it rains, it pours. Rain gear can help protect you against rogue waves and rain. You need rain gear to stay protected during those rough days on the water. Since some boats don't come with undercover canopies, you need a jacket made for outdoor use.
You may also need a pair of boots designed for wet conditions. The boots will stabilize you and your friends on the boat's slippery surface. It is advisable to try out several boots to find a perfect fit that's suitable for you. You may go for a short shaft boot that allows movement, depending on your preferences.
Although boots and wet weather jackets will keep you stable and warm, they may not accommodate heat retention or provide the required warmth. Therefore, you might need gloves, neck and head warmers, and goggles for eye protection.
It is important to note that some of the items we use on land are unsafe for use at sea. For instance, an umbrella can strike fellow passengers or get lodged in the boat's engine. However, it is safe to use your umbrella once you're on land.
Head Lamp
Apart from the flashlight in your toolbox, ensure that you have an additional light. A headlamp can be handy when conducting routine engine inspections or free chart navigation. Besides, don't forget to carry extra batteries.
Gas/Diesel Cans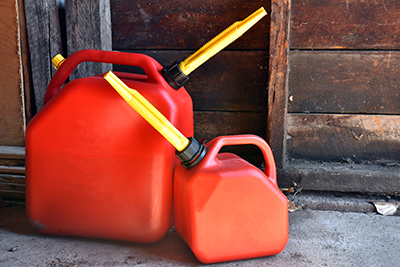 Racing around or cruising through the blue waters can be fun until your notice you are out of gas. The last thing you want is to get stuck in the middle of a river or lake without gas or diesel. It may be scary as you may be left wondering whether your boat will make it to the dock.
While your boat may have a tank with ample fuel storage, the worst may happen, so it's essential to stay prepared. If you intend to cruise through new areas or spend several days on the water, you might need to consider carrying an extra container of gas or diesel.
Carrying a gas or diesel container on your boat is safe and legal. However, there are certain precautions to consider. They include:
Only use a gas container meant for storing diesel or gas
Use an appropriately colored gas container
Avoid storing the container in an unventilated area
Secure the can in case you encounter rough waters
First Aid Kit
The last thing you want is a minor injury ruining the fun and the adventure on your boat trip. Therefore you need to carry a first aid kit containing antiseptic wipes, adhesive tape, bandages, an ice pack, and more items.
Fire Extinguisher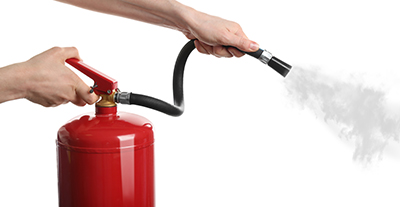 A fire extinguisher can be an essential part of your boating safety plan. It can save your life or reduce property damage by extinguishing a small fire or suppressing it as you wait for emergency service.
It is essential to look out for rust and chemical deposits and recharge your fire extinguisher before you head out. You also need to ensure it is within reach, so you don't struggle to find it when you need it most. It is also advisable to ensure that a certified company regularly inspects the extinguisher to ensure its fit for duty when required.
Sunscreen/Insect Repellant
Depending on the water body you intend to cruise through, you need sunscreen to protect you from the sun's harmful rays. Even if it's not sunny, harmful rays can still affect your eyes. A sunscreen will not only save you from discomfort and sunburns but will also protect you from insects.
Dehydration can cause several health problems such as dry skin, palpitation, dizziness, weakness, and headaches. Therefore, drinking about two liters of water daily while on your boating trip is advisable. Always remember to fill your fresh water tank before heading out for a boating or fishing expedition.
Final Thoughts
Preparing for your next boating trip can be a hassle, but it doesn't have to be if you invest in the abovementioned tools. These tools can mean the difference between the success and failure of your next boating experience. Most boats have ample storage space for you to keep some of the items on board throughout. You can also decide to invest in a locker to assist you in your boating supplies storage.