Depending on where you live, flooding from heavy rain or snow melt can be a fact of life. Quick Dam flood barriers offer protection, defending your home and belongings from damage. While flood protection is important, we also are a fan of Quick Dam products for a few other reasons.
Why We Like Quick Dam
Easy to Store Away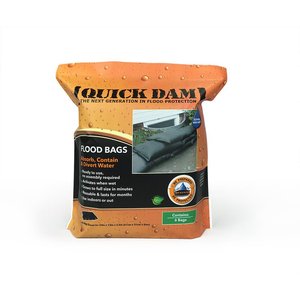 These residential flood barriers come in bags that keep them safe from moisture until it's time to deploy them. They're compact and space efficient, but once they get wet, they expand to create a large barrier. This flood barrier system comes in multiple lengths to fit almost any space. The inner core absorbs lots of moisture until it becomes saturated, and then the bag acts as a bulwark against further water expansion. The wedge shape keeps Quick Dam flood barriers from rolling away with the current. They take just 10 minutes to fill to their maximum capacity.
Set Up Virtually Anywhere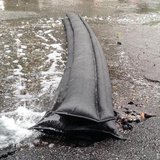 When flooding is imminent, you can lay these instant flood barriers in front of your doorways to seal out rising water. They're also useful for keeping leaking water heaters or barrels from affecting a large area, and the bags fit neatly in your car trunk so you can have them on hand for emergencies on the road. Quick Dam flood barriers are stackable to keep up as the water level rises. They're an excellent alternative to sandbags because you don't have to fill them yourself, and they're much lighter.
Versatile and Simple to Use
Leave these residential flood barriers outdoors for as long as necessary. They eventually break down into a non-toxic material that's safe for the environment. Because they last so long, these flood barriers are also suitable for setting up irrigation solutions for your farming or landscaping projects. Keep enough on hand to put one or two in front of every door to your home or business. They're effective in the winter, as they still provide a barrier even if they freeze through. Get a set of Quick Dam flood barriers today to ensure that your property is protected.