Adaptability is what you need when you are creating any woodworking project. You need straight lines, precise angles, and a place to do a variety of cuts. The Kreg Adaptive Cutting System offers all that while also giving you the ability for mobility and safety. For any woodworker this is a must have set-up to have in your shop. In this blog post, we will cover all the amenities that the Adaptive Cutting System offers and what you can do and expect from this incredible set-up.
What Does it Offer?
With the Master Kit, you get a plethora of tools and accessories that will help you get the cuts you need every time. In this kit it includes one Project Table with Guides and Stops, (2) Track Hinges and Mounting Plates, (4) Versa-Stops, (2) Repetitive Stops and Joining Bar, (1) Miter Guide, (1) 48" Extension, (2) Primary Rulers, (2) Secondary Rulers, (1) Project Table Base, base assembly with wheels and hardware pack, Plunge Saw, 48T Blade and 62" Guide Track with Cord Changer.
Each part of this kit will increase your productivity on any project by allowing you to do repetitive cuts, have a level surface, and maintain a straight line every time. These precise cuts can be achieved with the plunge saw and the track, giving your machine a guide to follow without the worry of sliding. Another unique feature with this saw, compared to other track saws, is that the blade location is on the left side. For most woodworkers having a blade on the left side allows for the use of the right hand, and it is the dominant hand of most people, makes it easier to work with and more comfortable.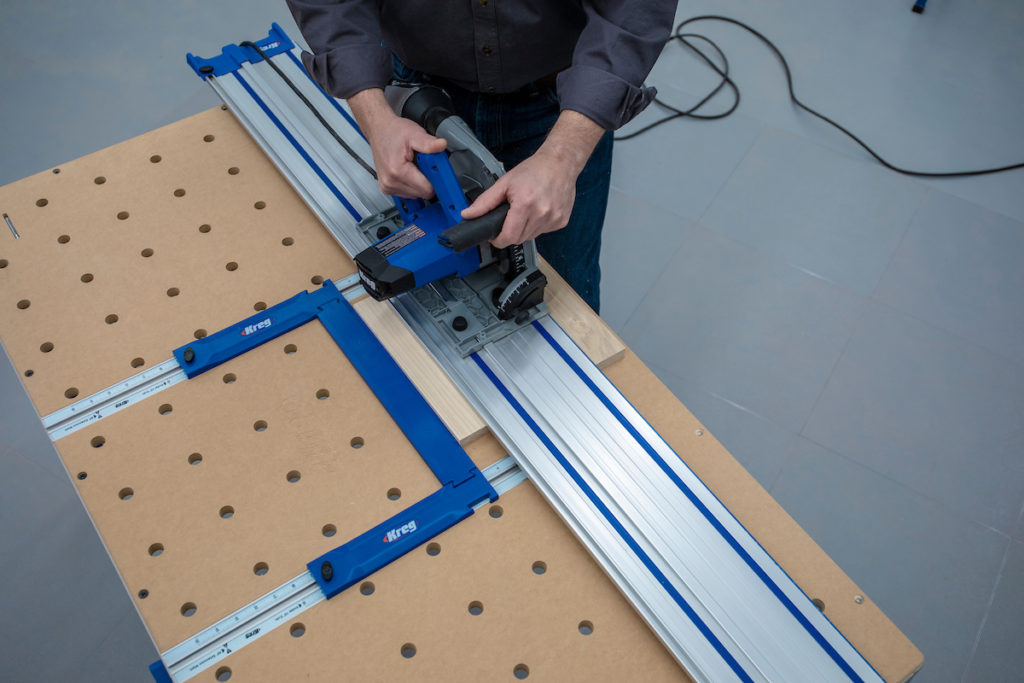 Partner that detail with the four versa-stops and the miter guide you have the combination to get the accurate cuts to varying degrees consistently.
Who Could Use This?
From the Woodworker who needs to save space to the contractor on the go, anyone who needs to cut wood for work could use this system.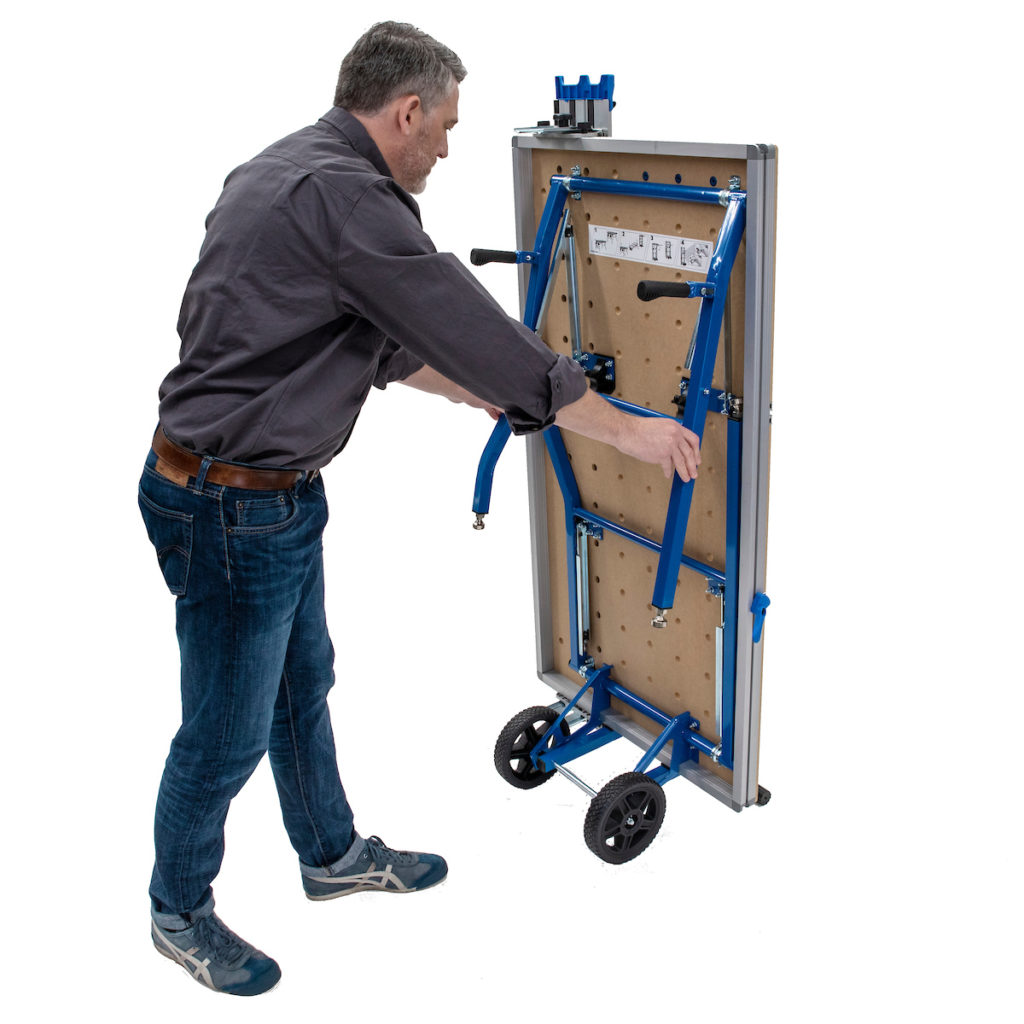 Why Should I Get This?
For those starting in woodworking and need to save on space but don't want to keep working on foam boards, this system is for you. Any professional who has to be on the go and needs something easy to move, this system is for you. Finally, for the person who likes or needs to have exact measurements and has a project that uses more than 90 and 45 degrees, this system is for you. If you want to make your job easier, there is no better addition to your garage and work area than the Adaptive Cutting System.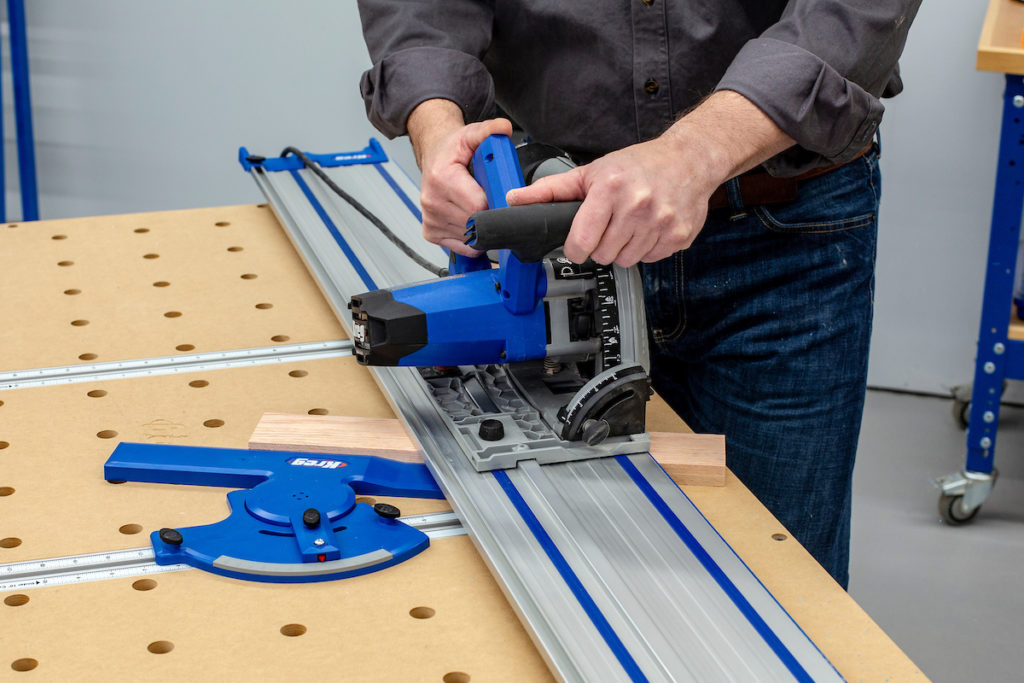 What If I Only Want A Part?
If you only need to replace a piece you don't have to go and buy a completely new system. You can purchase parts of the system, as well as extra features, to replace or improve your work. Separately purchasing the components can also be an alternative way to get the system if you want to get it piece by piece. But it would be more cost effective to buy it all at once.
But the various parts you can purchase are the Saw and Guide Track Kit, the Plunge Saw, Project Table Kit, 62″ Guide Track, the Versa Stops, the Project Table Top, and the Project Table Base.
Some additional parts are the rip guides, parallel guides, extension brackets, and splinter guards. You can also purchase a replacement top if the original was ruined or breaks.
Final Thoughts
Making and building with wood is a honed craft that requires attention to details while able to do repetitive tasks. The Kreg Adaptive Cutting System, allows you to make those repetitive cuts faster. While correctly getting those precise angles every time. Reducing the amount of time needed to double check the length of your cut. Giving you more time to build and create your project.
---
Need this ASAP? Then click on any of the links in the blog to directly go to the item you need. If you want to check out what else we have in stock then head to Acme Tools online store. There you can find great deals daily on a variety of brands.
Did you like the article? Want more like this or something different? Then make sure to check out the rest of the Acme Tool Blog. You can find a variety of article covering different areas. From product highlights, DIY builds for your shop and buying guides for the tool lover in your life. Learn more about tools that you weren't sure you needed, that way you can Do Your Best Work.