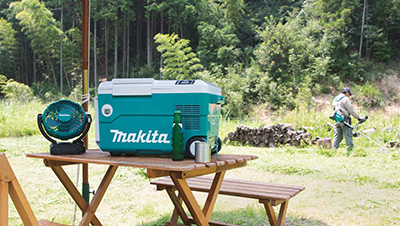 Spring is upon us, and summer is right around the corner, so it's just about that time to break out coolers. One issue with hauling a cooler is repeatedly filling it with ice and draining it afterward. That's both a waste of time and money.
On the opposite end of the spectrum, you need something that can keep food warm on occasion. Maybe you're hosting a large BBQ and need somewhere to store any extra burgers and brats.
Makita has you covered for both scenarios with the release of their new 18V X2 LXT Lithium-Ion Cooler/Warmer. The new cooler/warmer brings unmatched run time to all your cooling and heating needs with several temperature settings alongside many other features. A large storage capacity ensures you have plenty of space for any beverages and food that needs to be kept cool or warm.
Makita 18V X2 LXT Cooler/Warmer
The Makita 18V X2 LXT Cooler/Warmer is the answer to all the needs of any grillmaster. The cooler/warmer is powered by an 18V LXT 6.0Ah battery (sold separately) but has the capability of two batteries for longer run times. Once the charge runs out on the first battery, power will immediately switch over to the extra battery.
The cooler is capable of up to 5 hours of continuous run time while using two 18V LXT 6.0Ah batteries when set to 0-degrees Fahrenheit and up to 17 hours of run time at 40-degrees Fahrenheit. It features five cooling modes of 0°F, 15°F, 30°F, 40°F, and 50°F and two warming modes of 130°F and 140°F. Both the current temperature and remaining battery life can be checked on the easy-to-read LED display.
Makita 18V X2 LXT Cooler/Warmer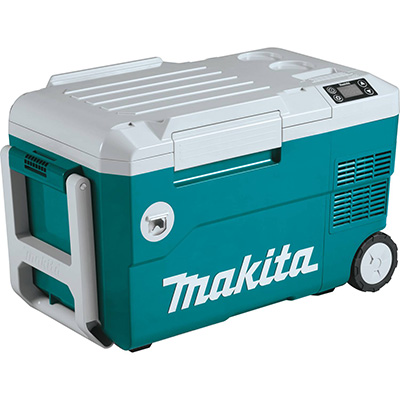 If you run out of battery life, the cooler/warmer can also be powered via a corded AC adapter or your vehicle's 12V/24V cigarette light. The box has a 21-quart storage capacity that is capable of holding about 30 cans. For added convenience out on the jobsite or campsite, a USB output port can easily charge your cell phone or other electronic devices.
A pull handle and 4-inch wheels make it easy to transport the cooler/warmer completely stocked. An IPX4 rating makes this a perfect option for the jobsite as you don't have to worry about rain and other moisture getting inside.
Shop more Makita products such as drills, chainsaws, track saws, and more at Acme Tools.