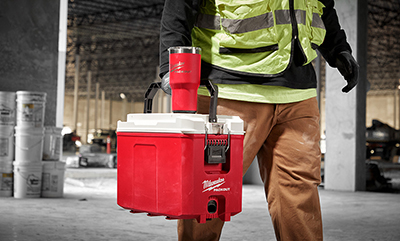 For years Milwaukee fans have been asking for a tumbler to be added to the PACKOUT System. Some have even gone as far as 3D printing their own solutions to attach a tumbler to their PACKOUT solutions. Milwaukee is finally answering all their prayers.
Two new PACKOUT tumblers and a cooler have been revealed that can easily attach to any PACKOUT Modular Storage System solution. They will ensure your beverages stay cold the longest while you're on the jobsite or just relaxing with friends. Just as temperatures begin to warm up, Milwaukee will have you ready for the summer lake season, whether it's a cold or hot day.
Milwaukee PACKOUT Tumblers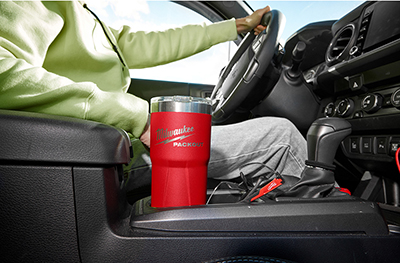 The new PACKOUT Tumblers come in two separate sizes, 20 and 30 ounces. The new tumblers feature twist and lock PACKOUT Connectivity so they can easily connect to any products in the PACKOUT Storage System. A double-wall vacuum insulated core guarantees the contents of the tumbler stay hot or cold all day long. Both tumblers can easily fit in most cup holders in your vehicle.
They have a smooth open and close lid, so you don't have to worry about getting access to your drink while wearing gloves. The lid also keeps dirt and debris away from the opening of the tumbler on the jobsite. Both the lid and the tumbler are dishwasher safe, and the lid is easily removable to wash separately.
Milwaukee PACKOUT 20-Oz
Tumbler (48-22-8392R)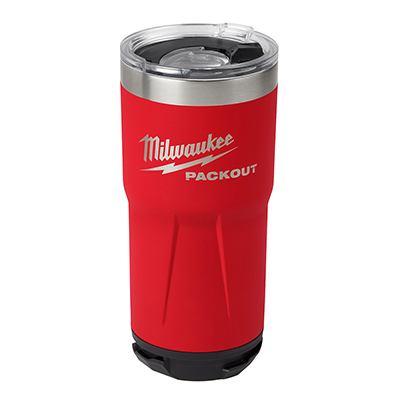 Milwaukee PACKOUT 30-Oz
Tumbler (48-22-8393R)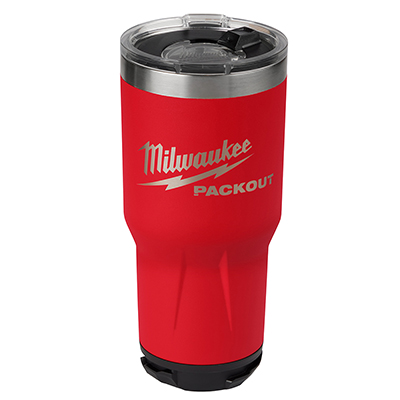 Milwaukee PACKOUT 40-Quart XL Cooler & Divider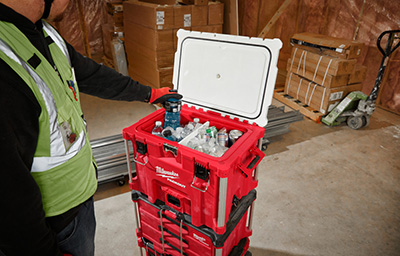 Building on the success of their 16QT PACKOUT Cooler, the PACKOUT 40QT XL Cooler (48-22-8393R) comes with every bell and whistle that any outdoors enthusiast could have asked for. The crowning achievement of the new PACKOUT cooler is the ability to hold ice for five days, putting it on par with some of the best coolers on the market. An impact-resistant body and an IP65 rating make this cooler perfect for the jobsite as it's durable enough to get banged around and can withstand debris or rain.
The new cooler features an integrated bottle opener, drain plug, and interior storage tray. As an added bonus, the cooler comes with a food-grade cutting board/divider (48-22-8041) so you can keep food on one side and drinks on the other. The impact-resistant polymer divider is cut-resistant and can be purchased separately, so you can use it only as a cutting board.
Milwaukee PACKOUT
40-Qt XL Cooler (48-22-8393R)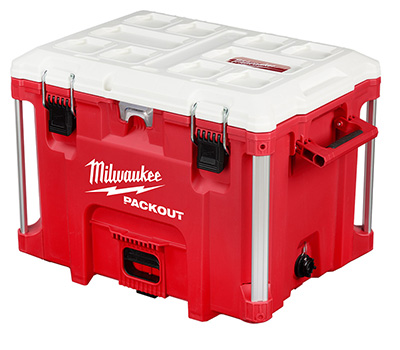 Milwaukee PACKOUT XL
Cooler Divider (48-22-8041)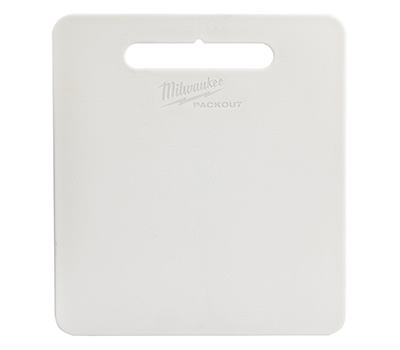 Shop more Milwaukee PACKOUT solutions and other power tools, hand tools, and more at Acme Tools.