Makita has announced the latest addition to their LXT system, the 18V LXT Grease Gun (XPG01). The cordless grease gun is the lastest innovation from Makita that emphasizes speed and efficiency. The features of the XPG01 make it the perfect solution for farm, fleet, and construction equipment.
Makita LXT Grease Gun (XPG01)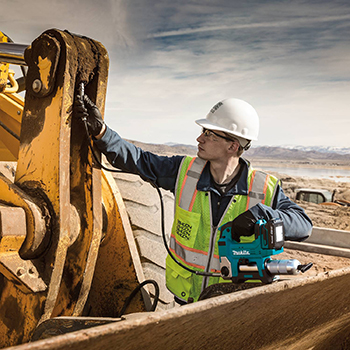 The Makita grease gun delivers 10,000 PSI of maximum pressure with a maximum flow rate of 10 ounces per minute. So, work is faster and more efficient on the jobsite. The flow of grease is controlled with two separate speed modes, low speed, which produces higher pressure, and auto-speed. The auto-speed mode is the stand-out of the new grease gun. It automatically adjusts the flow rate to match the pressure resistance of the part being greased. By switching automatically, the tool allows for quicker work so more fittings can be greased in a shorter amount of time. A speed selector adjusts between each mode, and a variable speed trigger creates even more control.
The cordless grease gun includes a 47-1/4-inch flexible hose, so it's easier to access fittings in hard-to-reach places. Built-in L.E.D. lights create more flexibility, as well, lighting up areas to locate hard-to-see fittings. The XPG01 is designed to stand on it's own or be used with a shoulder strap for additional comfort.
Additional Features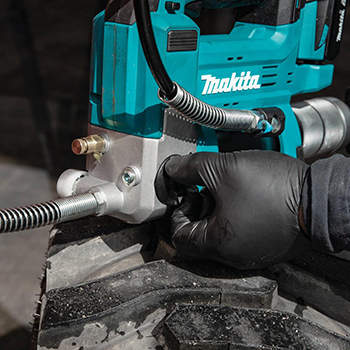 A lock-on button makes it more convenient to use the Makita LXT tool for longer periods. The button also has a lock-off feature to prevent the tool from starting up on accident, creating a huge mess. The gun features an air bleed valve for faster pump priming.
The Makita 18V LXT brushless grease gun includes Star Protection Computer Controls, which creates improved tool performance and extends battery life. Star Protection allows the tool and battery to exchange data in real-time and protects against overloading, over-discharging, and overheating by monitor conditions while in use.
Check out Makita grease gun accessories and more LXT products at Acme Tools.
Makita 18V LXT Grease Gun Lithium Ion Bare Tool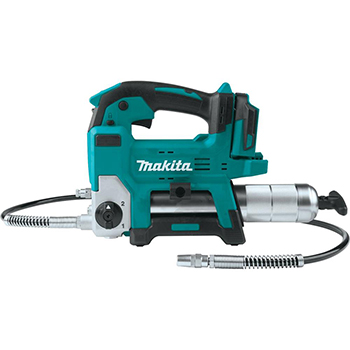 Makita 18V LXT Grease
Gun Lithium Ion Kit