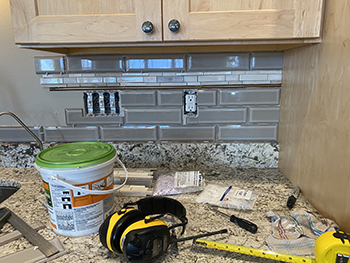 A backsplash is one of the easiest home improvements you can do and relatively affordable. It can completely transform a space that usually looks pretty dull and give it a sophisticated appearance. There are almost infinite options available for backsplash tiles, such as off-the-wall patterns, exciting shapes and colors, or alternative materials. The only limit is your imagination. Once you pick out the backsplash of your dreams, it's now time to install it. The next step can seem daunting, but with our helpful how-to, you'll be sitting in a brand new kitchen in no time.
Beginning Stages
Measure areas to fill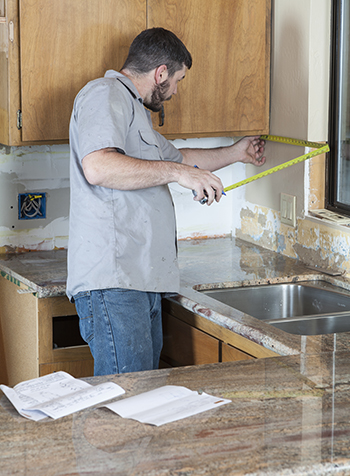 Before shopping for tile, measure the space you will be tiling. Getting exact measurements will keep the total cost within your budget. If only tiling one area, multiply the width and height of the space. For multiple sections, multiply each section and add the sums together to find your square footage needed.
Prep the walls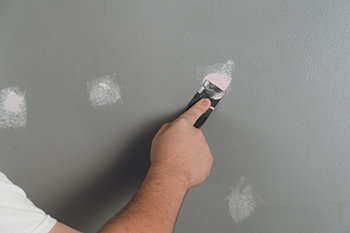 Before beginning your install, you need to prep the walls where the backsplash will be displayed. Prepping the walls is a pivotal step and will ensure the tile adheres to the walls and keeps your project area from becoming damaged. Before beginning any of the wall prep you'll need to clear the countertops and move any appliances, such as a stove or refrigerator. A lot of this is tedious work but it'll save you a headache once the project is complete.
Dry layout tiles to verify fit
Set a center point for the main area to be tiled. Mark a vertical line as this will be the focal point of the backsplash, and you'll build outward and up from the center.
Layout the tile along the countertop, with spacers in between them, and find their endpoint. If there is too narrow of space on either end, adjust the tile horizontally. Moving them will make it easier when cutting pieces for each end.
For the vertical layout, use a level to find the lowest point of the countertop and hold a tile in that spot. Be sure to account for a 1/8-inch expansion gap that will run between the counter and tile. Make a mark at the top of the tile and extend the line out using a level. This line will act as a reference during the install.
Tip: If you make any errors, try to make them directly underneath your cabinets. It'll be easier to hide any mistakes in that area.
Tile the area
Apply Mortar to wall/surface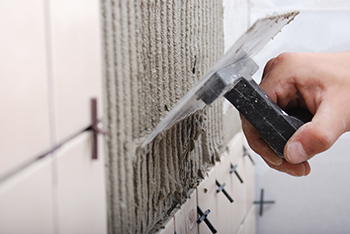 Once you have everything planned out, it's time to actually start laying tile. You can use either mastic or thin-set mortar for your backsplash. Mastic has a stronger hold but should only be used in areas with little water use. Thin-set isn't organic, while mastic is, so it's less susceptible to mold.
Another option is peel-and-stick tile backsplash mats. They bond immediately to the wall when pressed with a grout float. Peel-and-stick cuts down on time spent waiting for mortar to dry so you can tile and grout in the same day. They aren't recommended for areas with high moisture, such as shower floors, fireplaces, or steam rooms.
Apply tiles to wall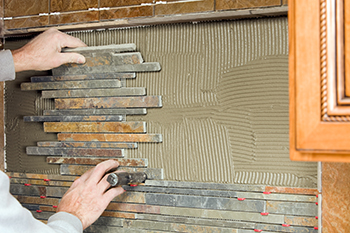 Apply the first tile sheet and give it a slight twist back and forth to spread the mortar on the back of it. Be sure to leave that 1/8-inch expansion gap between the counter and tile using either a spacer, depending on size, or shims.
Place a board or buffer on the tile sheet and tape with a rubber mallet. Another option is to use your grout float to press the sheet into the mortar firmly.
Tip: If the sheet slides around too much and mortar comes through the joint lines, you're applying it too thick. Remove the sheet and scrape off some of the mortar, re-trowel the wall, and reapply the sheet. Scrape out any mortar between the joints with a utility knife.
Continue installing tile sheets duplicating the previous process. Install spacers between each sheet to maintain the gap between joints.
Cutting Tile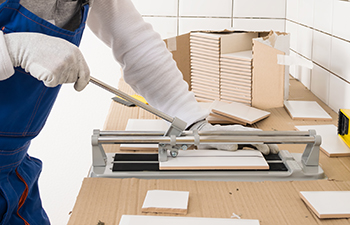 You may have to cut tile around outlets or curved areas depending on the layout of your space or the design of the tile sheets. Most tile sheets come with a mesh backing that makes it easy to cut out individual pieces or rows. If you aren't that lucky, you'll need to use either a snap cutter or wet saw.
If using ceramic or glass tile, a snap cutter would work best. You'll score the tile a few times and apply pressure using the handle to snap the tile in half. A wet saw is required for natural stone tile because a snap cutter will cause the stone to crumble. For curved areas, you'll have to use a nipper, which is great for small, narrow cuts.
Once you get just below the cabinets, cut tile pieces to fit the space if it is more than an inch. If you have less than an inch, either install a piece of decorative molding or fill the gap with mortar, depending on how large the gap is.
Lastly, wait for the mortar to dry based on the required time on the product's packaging; usually, it's 24 hours.
Finishing touches
We're reaching the finish line of our project. Grouting and cleaning up our mess is all that's left to do. If tiling with natural stone, use a pre-sealer to protect the stone from staining. Apply the pre-sealer at least three hours before grouting.
Mix Grout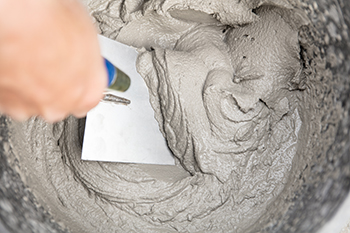 Select a sanded grout for joints larger than 1/8-inch or unsanded grout for anything smaller than 1/8-inch. Mix the grout based on the directions on the package. Once mixed, let the mixture stand for 5 to 10 minutes, then re-mix one more time without adding water. Mix the grout throughout the project to maintain consistency. You'll have a limited time to use the grout, so ensure you're not mixing too much at a time.
Grout is also available pre-mixed that can be sealed for later use.
Apply Grout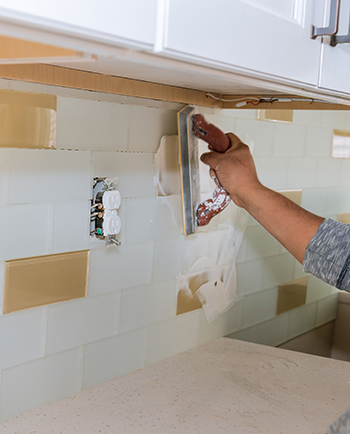 Start by applying the grout with a grout float at a 45-degree angle, working diagonally. Clean up any excess by pulling the float at a 90-degree angle across the tile. Work in sections, so an area is completed in 30 minutes, and limited grout is wasted.
Last steps
You've completed your brand new backsplash and people will be impressed with your home improvement skills.