Metabo, a leading German international manufacturer of professional-grade equipment in the US, has added four exciting new products; three angle grinders and a chipping hammer.
Below is what you need to know about these must-have items.
MHE 5 SDS-Max Chipping Hammer
Metabo's MHE 5 SDS-Max Chipping Hammer is a high-performance chipping hammer that is great for chiseling, demolition, scaling, and tile removal. The hammer offers vibration reduction and a lock-on switch for increased comfort during use. The SDS-Max Chipping Hammer allows you to control the impact rate and energy for more precise chisel placement.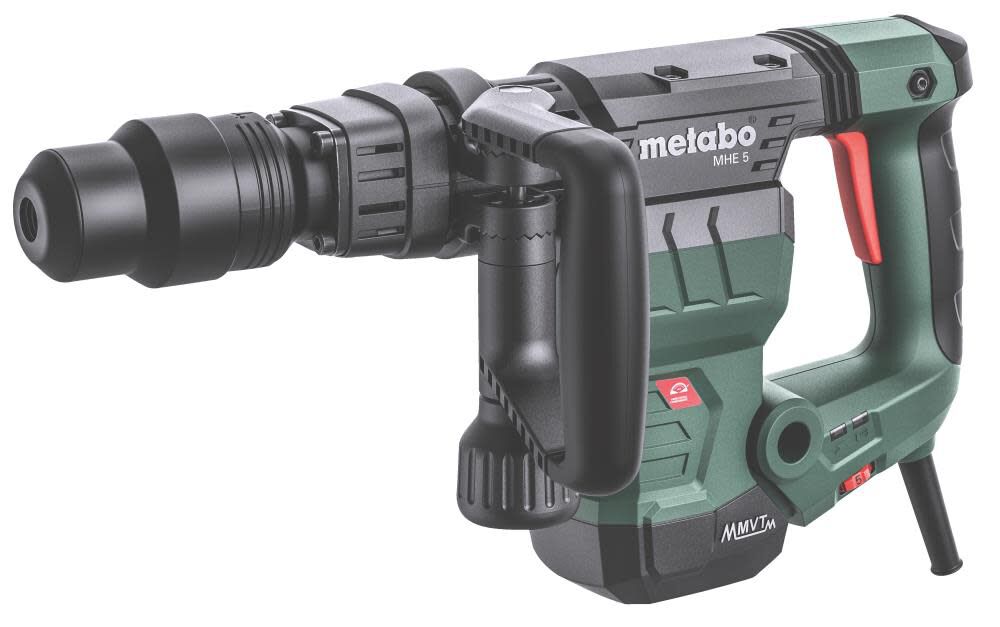 Metabo didn't stop there with the impressive features of this heavy-duty chipping hammer. It also includes two LED lights on the base of the handle. One glows green, so you immediately know when your tool is charged and ready to go. The next glows red if the device is plugged in and the switch is in the locked-on position. The red LED also begins flashing when approximately eight hours of carbon brush life remains. Included with the MHE 5 are a 360-degree D-handle, bit lubrication with a handy wiper, and a heavy-duty case.
M-Brush Angle Grinders
In addition to the MHE 5, Metabo released three new M-Brush Angle Grinders; the WEP 19-150 Quick M-Brush, the WEPBA 19-125 Quick Drop Secure M-Brush, and the WEPBA 19-150 Quick Drop Secure M-Brush.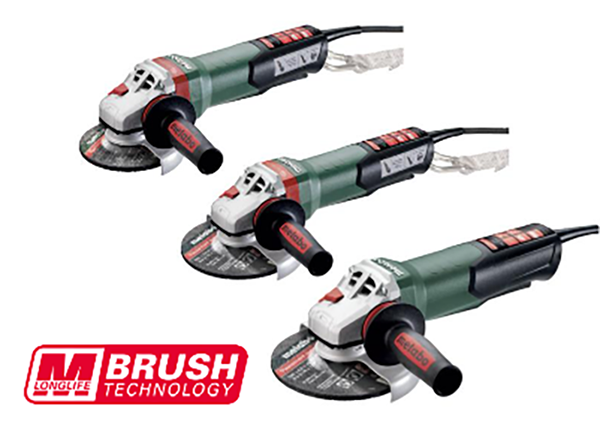 The WEP 19-150 Quick M Brush is a 6-inch angle brush with a no-load speed of 9,600 RPM. This angle grinder comes equipped with a standard guard and a clip-on cutting wheel guard for OSHA compliance when using type 1 cutting wheels. The 5-inch WEPBA 19-125 Quick DS M-Brush has a no-load speed of 11,000 RPM, while the 6-inch 19-150 Quick DS M-Brush has a no-load speed of 9,600 RPM. Both include auto-balance technology that decreases the tool vibration by 50% and increases the tool and wheel lifetime.
All three of these angle grinders come with patent-pending M-Brush Technology, extending the carbon brush lifetime by three times. Also included is the well-known Metabo Quick System, providing tool-free wheel change at the push of a button. Each model has Mechanical Safety Brakes, a feature that can stop the wheel in 2.5 seconds or less when the paddle switch is released. Lastly, these grinders have a drop secure attachment point for a lanyard which can help prevent your tool injury or property damage from a falling tool.
Increase productivity, improve worker comfort, and reduce job site accidents by choosing Metabo. Take on tough construction or demolition tasks with Metabo's other great tools and accessories, such as Saws, Drills, and Impact Wrenches. Check out even more Metabo products at Acme Tools.