When it comes to working on power lines and in the Power Distribution Industry, your tools are essential to more than just the job. Everything you use has to keep you safe from high powered electrical lines and the unexpected situations you may encounter. But with that said, tools in this field haven't been upgraded to make the user's job easier.
Milwaukee is releasing three new tools for those who work in the Power Distribution Industry to make working on those lines more comfortable. The three innovative tools are a crimper that reduces strain on the user, a hydraulic pump that is lighter and faster than any others on the market, and a hot stick light that is rechargeable for working in poorly lit areas.
M18 FORCE LOGIC 15T Utility Crimper
Usually crimping becomes a demanding one person job that can tire out your forearm, or a tedious two-person job. With the M18 FORCE LOGIC 15T Utility Crimper, you can crimp by yourself with ease and get more done on a single charge. A 350-degree rotating head for easy alignment, keep your hand and arm in a neutral position to avoid having to hyperextend it in awkward places. Compatible with all industry-standard P-Dies and P-to-U Die Adapters, you can quickly adjust to a job without having to abandon dies you own.
As well as including Predictive Force Monitoring (PFM) that indicates full pressure has been used to get the right crimp every time. After achieving the correct pressure, a green LED light indicator will activate. But don't worry about getting stuck on a connector, thanks to a pre-crimp battery check it automatically ensures that enough charge remains to complete each crimp.
The Utility Crimper comes either as a kit or a bare tool (2870-20). The kit (2879-22) will include the M18 FORCE LOGIC 15T utility Crimper itself, carabineer, (1) M18 RED LITHIUM XC 5.0 Battery Pack, (1) M18 REDLITHIUM CP2.0 Battery Pack, M12/M18 Multi-Voltage Charger, Inverter, and Utility Bag.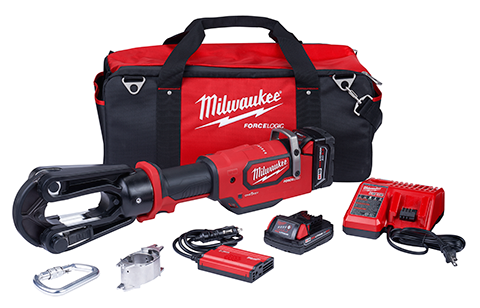 M18 FORCE LOGIC 10,000 PSI Hydraulic Pump
Hydraulic tools get the job but come at the cost of weight and needing a powerful pump to get things going. To alleviate that problem, Milwaukee has developed a 10,000 PSI Hydraulic Pump that is 80% smaller and 75 lbs. lighter than gas units. Making this easy to transport for one person and easier set-up.
With three modes of operation, get the flexibility to modify the operation of the tool to specific needs: Auto-Dump, Hold, Pressure, and a Wireless Mode which creates a physical air gap between an operator and a possible live electrical line when removing a remote cut.
Also featuring Predictive Force Monitoring (PFM), this control system will continuously measure the force output, delivering consistent speed that won't bog down on harder applications. The user receives instant pressure verification thanks to a green LED indicator light for accuracy and reliability on every job. For added convenience, the tool also has a bucket hanger attachment available to create a stable, level operating position to maximize working space in buckets and baskets.
You can get this machine as a bare tool (2774-20) or a kit, as well as buying the optional bucket hanger attachment (49-12-2776) and 6-foot Controller Cord Extension (49-12-2775) separately. The M18 FORCE LOGIC 10,000 PSI Hydraulic Pump Kit (2774-21HD) includes the tool, (1) M18 REDLITHIUM HIGH OUTPUT HD 12.0 Battery, M18 & M12 Rapid Charger, and Inverter.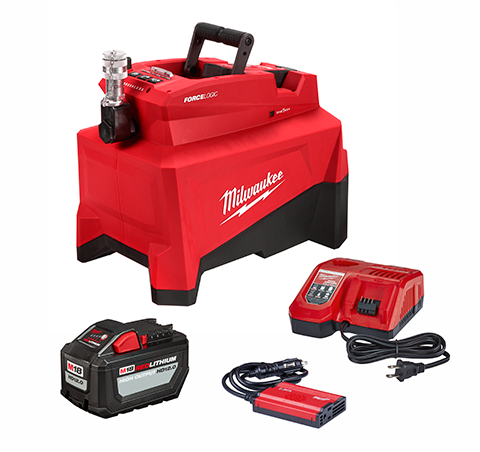 Milwaukee USB Rechargeable Utility Hot Stick Light
When it comes to working on the line in low light, or the middle of the night, not having any visibility is dangerous. That's why Milwaukee has developed a tool that goes on the end of your hot stick that adds needed light on your workspace.
Attaching to any universal hot stick this device produces up to 350 Lumens of TRUEVIEW high-output, thanks to two separate LED lights. Maneuver with ease with its inline design that doesn't inconvenience the user and can run for up to 8 hours.
Demanding jobs means working in conditions that may be rough on your tools, but you won't have to worry about that with this light. A high impact aluminum body rated at IP67 protects the device from water and dust. Also able to withstand a 40-foot drop thanks to its high-impact polycarbonate lens it can handle the roughest conditions.
This attachment comes as a kit (2119-22) that includes: USB Rechargeable Utility Hot Stick Light, (2) REDLITHIUM USB Battery, 2 foot Heavy Dust USB Cord, REDLITHIUM USB Charger, 2.1Ah Wall Plug, and 12V DC Vehicle Plug.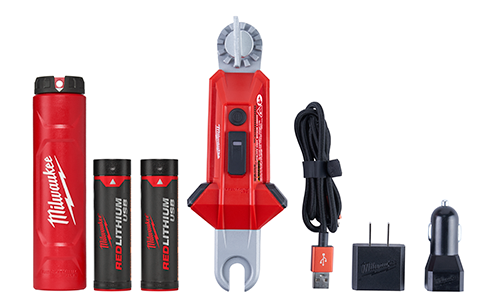 Final Thoughts
When it comes to working with power lines your tools matter and anything that can help, is appreciated. From working in the middle of the night to devices that can save you on space, and that can keep your arm from tiring out, Milwaukee has it covered.
---
Is news about these tools shocking to you? Are these tools a much-needed improvement? Let us know in the comment section down below what you think of them. What are some other devices would you like to see improved in this industry?
Was this article interesting? Want more similar information? Then make sure to favorite and keep up with Acme Tools blog. Find posts covering flood prevention, tool tips, DIY videos, and the latest tool news from big brand names.
Like these tools but need to get other machines for your job? Then head to Acme Tools Online Store and pick out from your favorite brands. With daily deals and the best prices, you can find what you need so you can Do Your Best Work.