The MILWAUKEE® M12™ Brushless Pruning Shears (2534-21 Kit and 2534-20 Bare Tool) are designed to provide the fastest, most controlled pruning experience while reducing fatigue. With the ability to cut branches up to 1-1/4″ and a range of innovative features, these electric pruning shears offer enhanced performance and ease of use.
Cutting Power and Control
The MILWAUKEE® M12™ Brushless Pruning Shears have a powerful brushless motor that delivers exceptional cutting performance. This technology allows users to prune branches up to 1-1/4″ in diameter. Moreover, the shears provide the flexibility to lock the blades into half their maximum capacity (5/8″ instead of 1-1/4″), thanks to the mode select board. This feature increases application speed by an impressive 40%, allowing quicker and more efficient pruning.
Active Blade Control is another notable feature that sets these pruning shears apart. The blade movement mirrors the trigger movement, enhancing user control over the cut capacity during applications, and allowing for precise cuts and better maneuverability, particularly in intricate pruning tasks.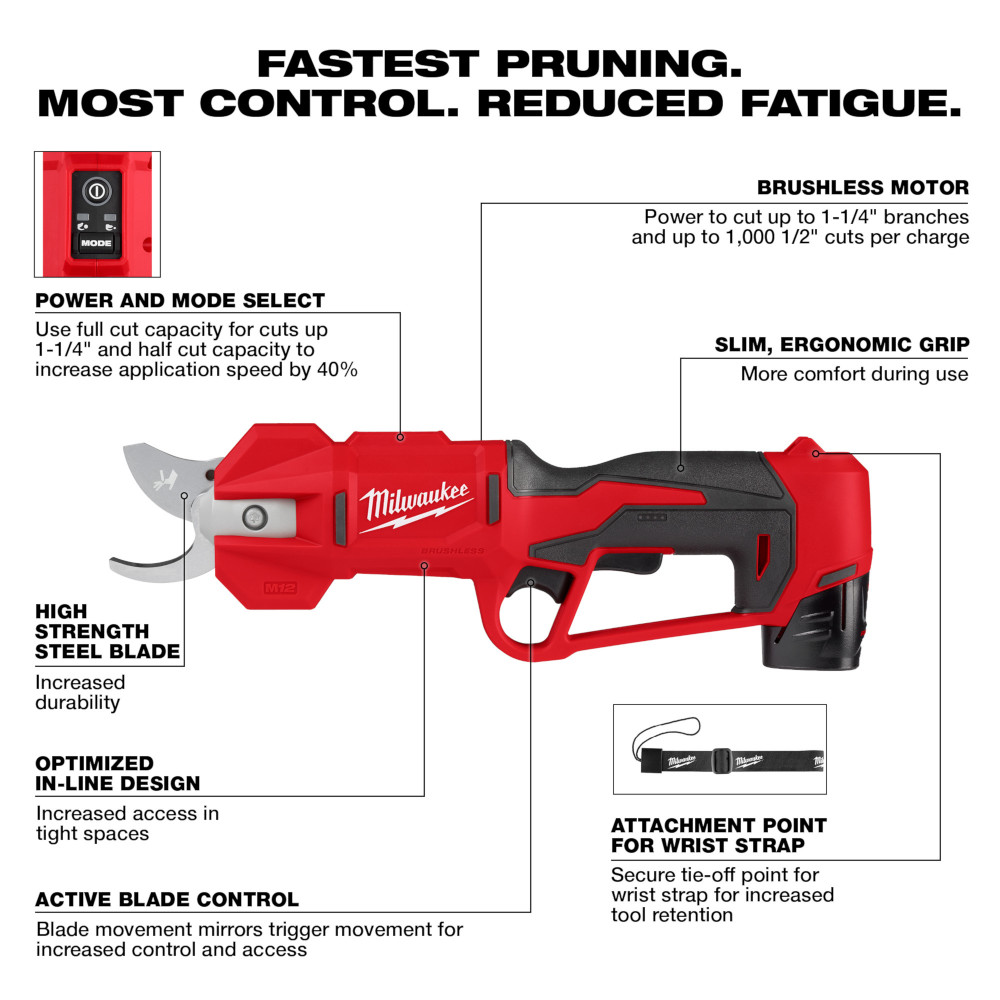 Battery Life and Compatibility
The M12™ Brushless Pruning Shears are powered by the M12™ CP2.0 Battery, offering impressive runtime. With this battery, users can make up to 1,000 cuts per charge in ½" branches, ensuring uninterrupted productivity without frequent recharging. The shears also come with the M12™ Lithium-ion Battery Charger, enabling convenient and quick charging between tasks.
One of the significant advantages of the M12™ Brushless Pruning Shears is their compatibility with the M12™ system. This extensive system comprises over 150 tools, making it easy for users to expand their collection of cordless tools while utilizing the same battery platform. It provides the convenience of interchangeability and eliminates the need for multiple batteries and chargers.
Ergonomic Design and Durability
The MILWAUKEE® M12™ Brushless Pruning Shears are designed for the user's comfort and durability. The optimized in-line design offers increased access in tight spaces, allowing for efficient pruning even in challenging areas. The slim, ergonomic grip ensures a comfortable and secure hold during extended use, reducing hand fatigue.
These pruning shears feature high-strength steel blades that offer exceptional durability, ensuring they can withstand demanding pruning tasks. Additionally, the shears come with a wrist strap that provides added control and prevents accidental drops, enhancing safety and ease of use.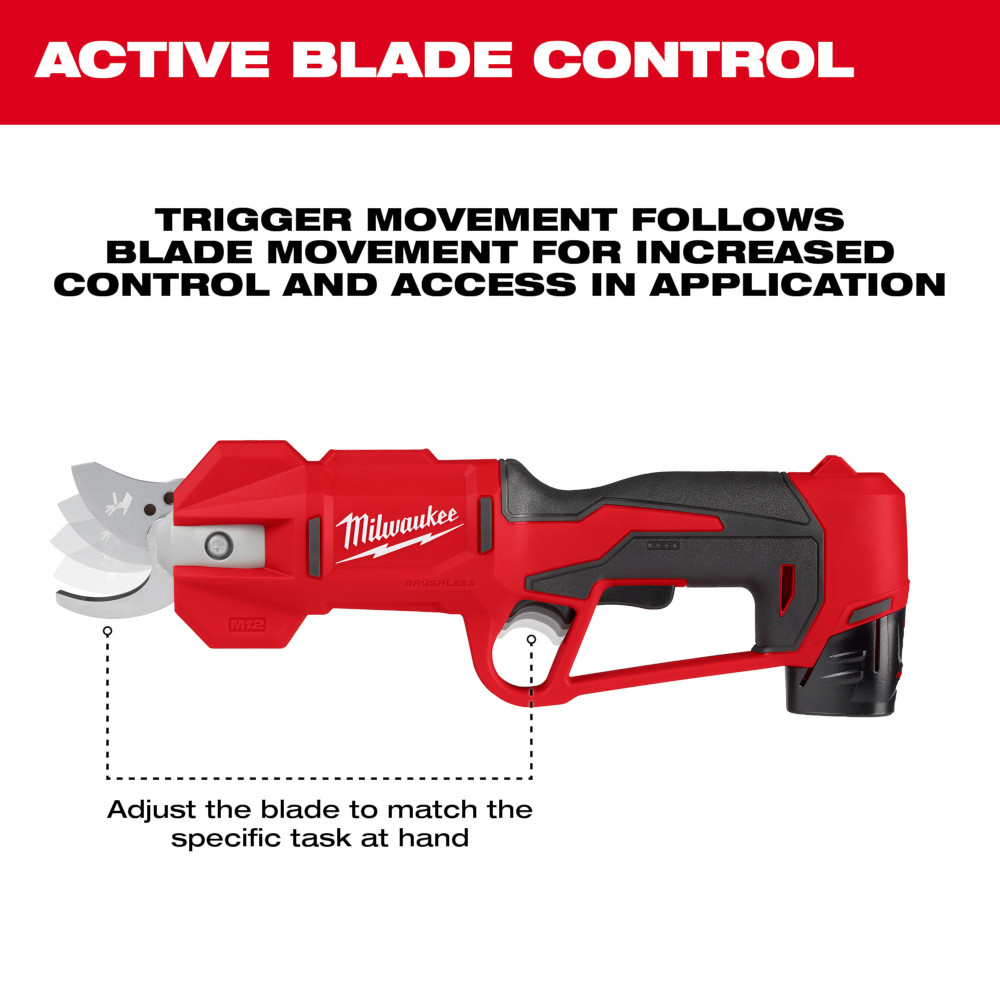 Conclusion
For professional landscapers, arborists, or even homeowners looking to maintain their gardens, the MILWAUKEE® M12™ Brushless Pruning Shears is a game-changer. With their fast cutting power, precise control, and reduced fatigue, these cordless electric pruning shears streamline the pruning process. The compatibility with the M12™ system and the long battery life further enhance their versatility and convenience. Invest in the MILWAUKEE® M12™ Brushless Pruning Shears and experience faster, more controlled pruning while minimizing fatigue and maximizing efficiency in your outdoor maintenance tasks.
2534-20 M12 Brushless Pruning Shears (Bare Tool)
2534-21 M12 Brushless Pruning Shears (Kit)
48-44-2769 M12 Brushless Pruning Shears Replacement Blade