Milwaukee's New M18 FUEL Jig-Saw
Milwaukee innovates tools for the betterment of the user, the trades pro, and the DIYer. With their new Jig-Saws, it is no surprise that they have made improvements that people like you suggested to them. Who else is better than the people who use this tool every day to tell Milwaukee what needs improvements?
The New Replaces the Old
The first thing that needs mentioning is that Milwaukee has decided to discontinue the 2645-20 D-Handle Jigsaw with the NEW 2737-20 Jigsaw. This tool will offer more power, more run-time, new mechanisms, a higher blade speed, an upgraded blade clamp, and improved tool-free bevel adjustments. It is sad to see a great tool go but in its place will be one that was designed to exceed everything its predecessor did.
Two Options Are Better Than One
When you are cutting, some professionals have a preference on how a jigsaw fits in their hands. Team Red has given you the option to choose between either the 2737-20 D-Shape Grip or the 2737B-20 Barrel Grip. We won't go into the hearsay about which one is better, but an option to choose based on your work preference is excellent.
How do you choose which one though? If working in small spaces is where you find yourself a lot then a barrel grip would be a preferred choice. If you favor comfort and speed control, then the D-Handle is up your alley. Either one you choose is an upgrade to any Carpenter, Remodeler, Electrician, or Maintenance & Repair professional.
What's New About Them?
With improved battery efficiency, this tool can make it through a full day's work on one charge. Able to cut up to 105 ft. per charge and has the power to cut through hard materials like metal and hardwoods without bogging down. Minimizing chipping and bucking with 3500 SPM, for controlled straight and radius cuts that are clean.
Keeping the work area clean is always a big deal but keeping the area scratch free can sometimes be a problem. Milwaukee has added a shoe cover for smooth surface contact to prevent that issue. So whether it's a client or your better half yelling at you about not damaging the surface, they can rest at ease that it won't.
What Does The D-Handle Jig-Saw Offer?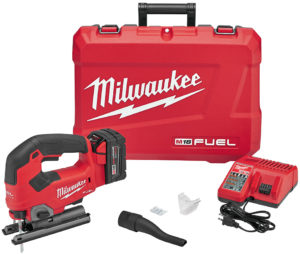 Here the features that were demanded by customers and users that use this tool every day. On/Off blower switch to help save on battery life, to help clear your line of sight for the cut, or if you hate having debris on your workspace. You can now turn this on and off at your leisure. Along with the LED light that illuminates your work area, you can work knowing that your line is true.
For more control over your cuts, the tool also offers a four-position orbital action and a variable speed trigger. The trigger allows you to adjust while cutting against tough materials that need a little more power to get through. Need to clear more material, crank the orbital to 4, need to slow down your cut ease up on the trigger, and the way you need to adjust you can quickly do it on the tool without wasting your time.
Speaking of saving you time, this Jig-Saw also has tool-less bevel adjustments and blade clamp. Giving you the ability to change the angle of your cut and replace your blade without the need for the middleman tool. No more worries about losing it in your tool bag, on the job site, or forgetting it at home. With a few pulls, you can get your desired bevel easy or with a simple turn you can replace your dulling blade quick.
What Does The Barrel Handle Jig-Saw Offer?
Similar to what the D-Handle Jig-Saw the Barrel Grip also has an On/Off Blower, LED lights, and a four-position orbital action. What is different about this tool is what sets it apart from the D-Handle.
Ambidextrous on/off switch gives the user the ability to turn the tool on in any position. Have to start a cut in a less than usual position, no problem. You are a left-handed trades professional and always feel left out with all the molding catering to right-handed people, here is the solution.
Find the speed you need with the six-speed setting with Auto-Controlled start mode. The Auto-Controlled Start mode starts your tool slowly and ramps to full speed when the load is detected. The slow startup ensures a smooth and accurate cut starts. Great for the perfectionist worker who wants their lines as clean and precise as possible.
Both tools also have REDLINK Plus electronics so your tools motor and the battery operate at maximum power and efficiency.
Final Thoughts
"Always Do Your Best Work," is Acme Tool's motto and Milwaukee's 2737-20 and 2737B-20 are tools that live up to it. From giving cleaner cuts, able to work in non-conventional angles, tool-less adaptability, and being able to get the power you need when you want it, are all traits that make working easier. For trade professionals, you need a tool that makes changes seamless because moments matter when you are on the job.
The Milwaukee 2737-20 D-Shape Jig-Saw will be available for pre-order and will ship in August and the Barrel Grip is scheduled to ship in November. Check out more Milwaukee tools at our website at acmetools.com. Also check out the rest of our blog for more tool releases, buying guides, tool hacks, and other fantastic info. Follow us on Facebook, Instagram, and Twitter, to stay up-to-date on the latest tool news.