How does one measure a tape? By its length? By its durability? Its versatility? Why not all of the above? Introducing the all new Milwaukee STUD tape. Designed for maximum durability, these new tapes can take a walloping and keep right on chugging.
Caught On Tape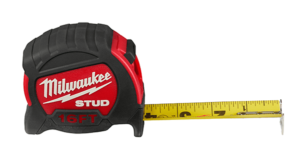 "This year we are taking durability to the next level and addressing the most common and unsolved user issue: tape tear." said Brandon Miller, Director of Product Marketing for Milwaukee Tool. If anything catches on the tape while you're retracting it, you won't need to worry about it ripping or snapping off. The entire blade is enveloped in protective nylon, guarding it against common threats like cuts and abrasion.  A worker accidentally steps on it and creases it under their boot? No challenge for this beast; it will snap right back into shape. Toolboxes running over it? Still no problem. Throw anything at it, or throw it at anything, and the STUD tape keeps on going.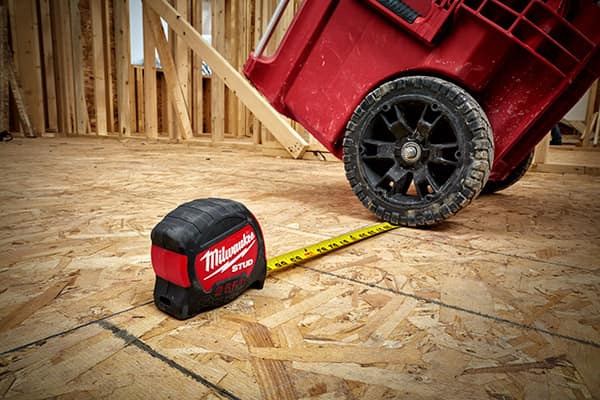 Redesigned From Ground Up
Milwaukee put all their knowledge of tape measure technology into creating the most rugged design yet. And it shows: it's designed to withstand falls and bumps. Falls and bumps up to 80 feet, more specifically. It has an impact resistant frame and enough internal reinforcement it could take a hit from Clay Matthews and walk it off, no sweat. 
Another great feature is the finger guard. You can easily hold the tape in place by pressing up against it in the opening behind the guard for easy small measurements. A barrier also separates your index finger from the incoming projectile tape as it rewinds back, reducing the number of curse words on your jobsite.
Running The Numbers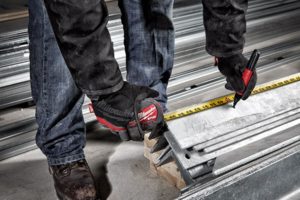 A tape measure doesn't do much good when you can't even read it. Milwaukee addressed this too, by ensuring the printed number labels are just as tough as every other part of the tool. Boot prints, dirt, sand, coarse bricks. None of them stand a chance to wear the measurements off. Reading the tape will be easy even in the worst conditions.
How Does It Measure Up?
Let's get into the down-and-dirty stats. The new Milwaukee measuring tapes are available in two sizes: 16 and 25 feet. The tapes are 27mm wide and have 10 feet of standout. They both feature wire clips redesigned to fit perfectly in your bag or on your belt without tearing up the pockets. And best of all, they're both available for pre-order both on acmetools.com. So what are you waiting for? Go get yourself the most durable tape you've ever owned.
48-22-9925 25ft STUD measuring tape
48-22-9916 16ft STUD measuring tape