A New Circular Saw On The Side
Cordless circular saws have been slowly taking over the market in the last few years but continually run into the same problem time after time: they don't have the same power as corded options.  Enter the new M18 FUEL circular saw: the power and speed of a cordless saw coupled with the freedom and versatility of battery power.  Designed with carpenters, remodelers, and general contractors in mind, Milwaukee gave this tool loads of features to meet high expectations.
More Power Than Corded Saws
Like we mentioned, cordless saws have still been struggling to keep up with their older, corded siblings, and that is precisely the problem that Milwaukee set out to remedy.  A POWERSTATE brushless motor spins the 7-1/4 inch blade at a truly remarkable 5,000 RPM, as well as making vertical cuts up to 2-1/2 inches deep.  Thanks to the included high-output 12 amp-hour battery, we are looking at a tool that can easily be compared to many 15-amp models commonly used, without being stuck to a wall outlet.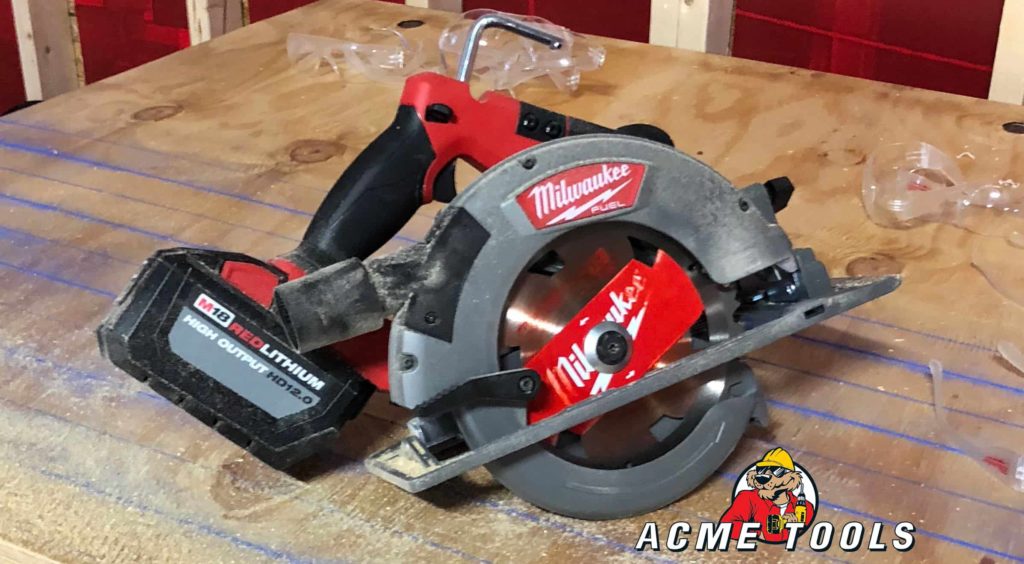 Convenience Where You Need It
Not only is it supremely powerful, this new Milwaukee brushless saw is also loaded with features to make it light, nimble, and easy to use.  A magnesium foot is sturdy while making cuts while shaving valuable ounces from the overall weight.  A built-in rafter hook keeps the saw nearby and off the floor while folding away to stay out of your way when making cuts.  For additional safety, an electric brake stops the blade from spinning once you release the trigger, and an LED headlight helps you make sure you can always see exactly what's in the path of the blade.
A Few Other Things We Like
Tool only weighs 12.45 pounds
Dust shute on blade guard for attaching a vacuum
Makes up to 350 cuts per charge with the M18 5.0ah battery
Onboard computer stops overloading and overheating during really tough cuts
Final Thoughts
As the demand for powerful cordless saws continues to increase, we are glad to see companies like Milwaukee stepping up and delivering new innovations like this.  It is also completely compatible with the entire M18 line of tools, so use it with your other 18v batteries or try out the new High-Output 12Ah battery in your trusty red drill, and they will all work perfectly.  We are really excited about this new saw, and we think you will love it too.
New Tool Coming Soon
Now available for pre-order and scheduled to ship this summer.
2732-21HD M18 FUEL 7-1/4″ Circular Saw Kit