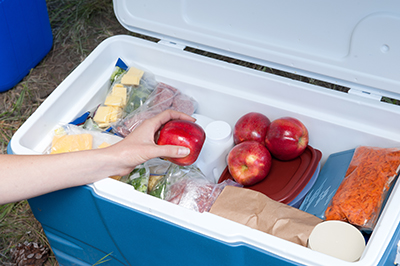 Whether you're going camping, hanging out with friends, fishing, or whatever other endless reasons for needing a cooler, you need to know the best cooler to purchase. The easy answer to that conundrum is that it depends. There are several types of coolers, all with their own functionality, and there are many different sizes with many different features.
You may be hosting a party of 100 people, so you'll need a larger cooler, or you may just need something small to haul snacks to a little league baseball game. No matter the reason, our guide will walk you through the many different kinds, sizes, and features so you can choose the cooler that best fits your needs.
Types of Coolers
There are two main categories of coolers, soft and hard. Another smaller niche is battery-powered coolers, which can keep your food hot or cold and don't necessarily need ice. Soft and hard coolers come down to functionality and size, as soft coolers are usually smaller and easier to carry.
Soft Coolers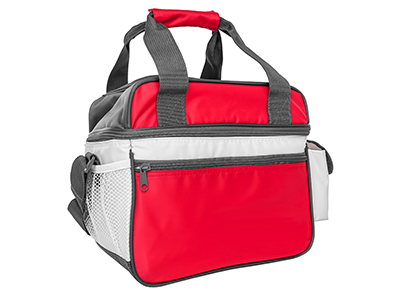 With an obvious namesake, soft coolers offer a lighter option compared to the traditional hard cooler. They look similar to a messenger bag or small duffle bag and usually feature handles or a shoulder strap so they can easily be carried. The main drawback of soft coolers is the thinner wall construction, which makes them less insulating than ice chests, so they aren't built for long-term storage of food or drinks.
Pros
Lighter, so they're easier to carry
Take up less space in a vehicle
Best cooler for small groups
Cons
Limited storage space
Less insulation
Hard Coolers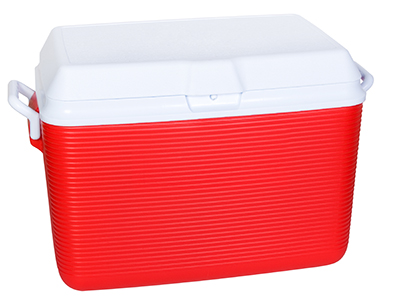 Hard coolers, or ice chests, are built to last you a long time while also making your food colder for longer. They're available in several different sizes ranging from handheld sizes all the way up to truck bed length, so there are plenty of options to fit any need. In the majority of hard coolers, ice retention can be several days, so they work great for camping trips.
Pros
Durable for longer life
Ice lasts several days in most
Best cooler for large groups
Cons
Less portable
Take up more space in a vehicle
Powered Coolers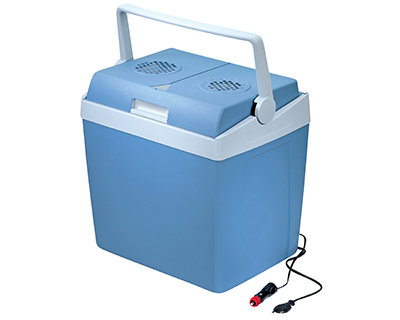 A newer addition to the cooler market, powered coolers add a new level to traditional coolers. These types of coolers work similarly to a fridge, and some have the option to keep food hot. They run either on cordless batteries or via a DC outlet in your car. The biggest benefit of a powered cooler is many of them don't require ice, so you have more storage space.
Pros
No need for ice
Option to keep food hot or frozen
Cons
Short power supply
Less portable
Cooler Functionality
When it comes down to it, this is the biggest factor in choosing the cooler that is the right fit for you. It doesn't matter what type of cooler you buy if it doesn't work the way you need it to. Between capacity, construction, and portability, you have the three major facets of any quality cooler. Many coolers come with extra features that may be small but might be that edge that makes you choose one cooler versus another.
Cooler Capacity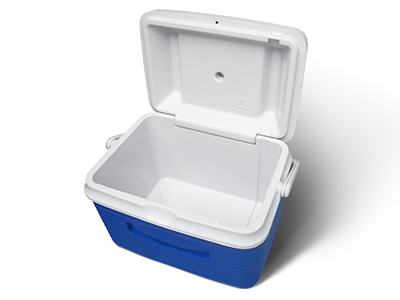 A cooler's storage capacity is the biggest functionality question to consider when choosing the best one for you. Coolers have come a long way since the days of the Igloo that kept your lunch cold on the jobsite. Now they range in size from a traditional lunch box to those large enough to accommodate a deep-sea fish catch.
Things to consider:
Main use of the cooler – Are you packing your lunch in it or bringing it fishing? Maybe you'll need multiple coolers for different occasions.
Space – Depending on the size of your group could change how much storage space you need. Consider that part of that storage space will be taken up by ice.
Construction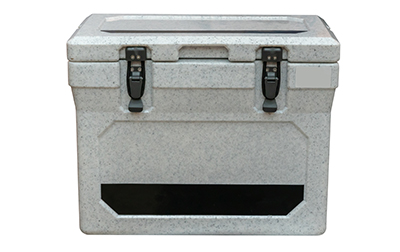 Insulation level and durability are each a part of the construction of a cooler. Those two pieces make or break a quality cooler. No one wants to open their cooler after a couple of hours and find warm food, and nobody wants a cooler that is broken before the end of the summer. Soft and hard coolers each have their own factors to consider.
Things to consider in a soft cooler:
Shell material – A better quality material will generally be waterproof and will be more durable, so it can hold up for many years.
Closure type – Soft coolers generally feature a zipper closure. Some models with a zipper offer waterproofing and prevent leaks.
Insulation – Look for a cooler that has quality insulation that will maintain the temperature inside. There are options that feature leakproof interiors that also resist mildew.
Things to consider in a hard cooler:
Thickness of the plastic and foam – The thicker the space between the outer and inner walls, the better the insulation and the longer it'll hold ice.
Seal quality – Most hard coolers have a rubber gasket around the lid, so it seals better than one without.
Plastic construction – Some coolers are made up of separate pieces of plastic, and some have a lid and body that are each one solid piece, also called rotomolded. Rotomolded plastic will increase the insulation of the cooler.
Portability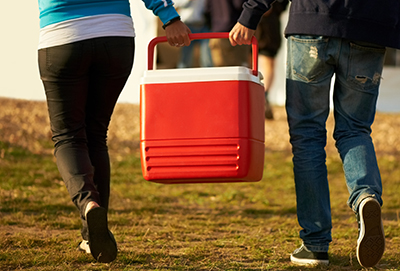 If your cooler is very difficult to transport, you might end up with something that's more trouble than it's worth. Not all coolers are created equal, and some require multiple people to transport them. There are some coolers that have wheels and a telescoping handle, so they're easier to move, but not all of them are designed this way. Take into account how much space you have left in your vehicle after loading up all the other gear you're bringing with you. Finally, don't forget what you'll do with the cooler once you're done with it for the season.
Things to consider:
Size of the cooler – Measure the space of your trunk or truck bed to see if it'll fit in whatever you use to haul it. Perhaps you'll need a luggage rack.
Weight of the cooler – If the cooler is larger, will you have an extra person to help you carry it? Consider buying two smaller options if you're the only one going on your trip.
Handles – Ensure the handles are comfortable to hold, especially if you're going to carry the cooler a longer distance. Consider the handles in the length of the cooler when you need to fit it in your vehicle.
Storage – When the cooler isn't in use, will you have enough space in your garage or shed to keep a larger cooler. Again, two smaller coolers might be a better option.
Extra Features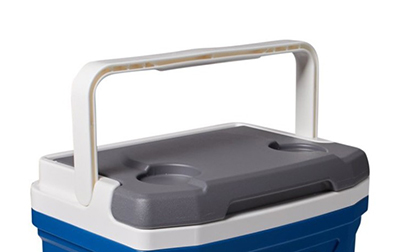 This is the area where you start considering the things outside of just keeping your food cold. Many coolers have ancillary features that give them an edge, and the bells and whistles just keep going up as you look at higher-priced coolers. Extra features include a measuring tape built into the lid, which is great for anglers, built-in bottle openers, cupholders, and more. Some larger coolers feature an interior tray for keeping specific foods off the ice, such as dry goods or fruit. These extra features can help save space in the car by limiting how much extra gear you have to bring.
Shop our entire cooler collection from some of the top brands such as Yeti, Igloo, Orca, DEWALT, Milwaukee, and more at Acme Tools.