Comfort, Ease, and Durability.
Stanley tools have always had a great reputation and their newest tape measure will be no different. Introducing the Stanley FatMax 25′ Tape Measure FMHT36325S. This new tool has the same features as other tape measures before, but with a few improvements.
New Additions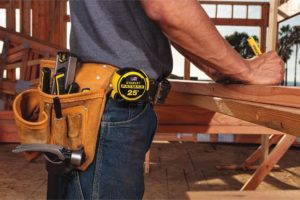 First is the new design of the tool. It was made with the idea of holding a baseball in your hand. Why would this matter? It not only gives a comfortable grip while using the tool but also helps take less space in the tool belt. The Stanley FMHT36325S Tape Measure is supported by an improved and stronger belt clip, which allows for easy fastening and removal. Though this might seem trivial but saving a few inches on your belt can mean more room for other needed essentials.
One of the nicest improvements to the tape makes any clumsy person relieved. With the addition of the case being designed for comfort, it also can handle a high drop as well. How high? Let's try 50 feet, which is as tall as the Hollywood sign. The Patented Twin-Core Technology inside makes sure that it retains maximum strength and performance. So if you were doing a project from the roof of a building and drop your FatMax Tape, don't worry. The tool would be fine and ready to go.
Though those aren't the only internal improvements. The tape itself has been made more durable by coating with two times more BladeArmour® Coating and then covered with the Max Shield™ Coating. This combination reduces breakage at the hook and improves the longevity of the tapes life.
Another improvement the tape has is a 13' straighter standout. In other words, it can be extended 13 feet before the measure collapses under itself. So if you can't walk to something, climb over, or if it's in a small space that someone can't reach, this measure can help alleviate that issue. Not to mention the easy-to-use lock so you can keep your measurement if you need to record it or mark it.
Summary
If you need something heavy duty, something reliable, and comfortable in your hand, look no further than the Stanley FatMax 25'. With its subtle but crucial improvements, this would be a welcomed addition to any tool belt and/or toolbox. To see more about the Stanley FMHT36325S FatMax Tape Measure or to purchase one checkout acmetools.com.
Specifications
Height: 3"
Standout: 13'
Blade Coating: MAXSHIELD™ Coating
BladeArmour®: 6"
Lock Type: BI-Material Slide Lock