When you think of camping, you think of hot dogs and burgers. Cooking these items on a secluded campsite can be cumbersome, not to mention having to lug a grill there as well. Sometimes, the grill is rather small, so if you have a larger group, cooking can be a laboring task. That's where Blackstone comes in. Their griddles are making cooking fun while enjoying the great outdoors.
Things to Consider Before Buying a Griddle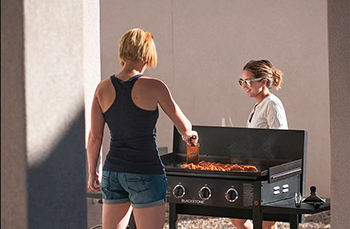 Before going out and buying any Blackstone griddle there are a few things you need to decide a few things, such as:
Blackstone offers a wide range of options that can alleviate any of these concerns. Their tabletop options are perfect for those who don't have a lot of space in their truck. The smaller size is also great for those who live on the go or in an RV. Their products range in size from 17-inches to 36-inches in size, with the larger models offering more cooking zones. If you're camping somewhere without a level surface to set a tabletop griddle you may consider one of the models with adjustable legs. The large models all have legs and a side table.
Best Blackstone Griddles for Camping: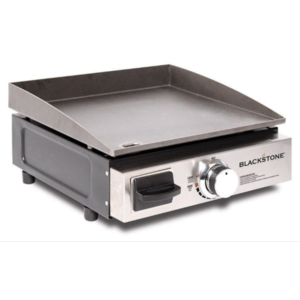 17″ Propane Gas Griddle – 1650B
One of Blackstone's smallest models, at 17-inches, provides the ultimate level of portability at 26 pounds. Despite being the smallest, it still puts out 12,000 BTUs of heat, so you'll have no problem cooking up breakfast each day.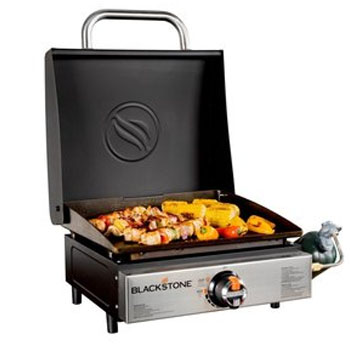 17″ Tabletop Griddle – 1814
The 1814 offers the same amount of BTUs as the 1650B with a slightly larger cooking area of 280 square inches. The main draw of this griddle is the hood, which protects the griddle from the elements. So, the hood will ensure your cooking surface is ready to go at any time.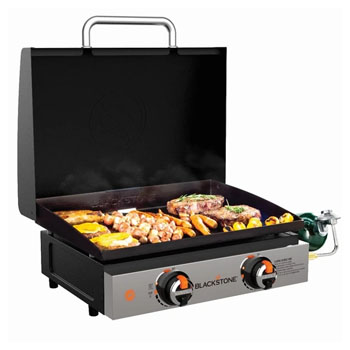 22″ Tabletop Griddle – 1813
With a larger size of 22-inches comes a second burner, so you have two independently controlled heat zones. Therefore, you have more control over 24,000 BTUs on the 339 square inch cooking surface. So, you can cook food on one side and keep it warm on the other while you cook more.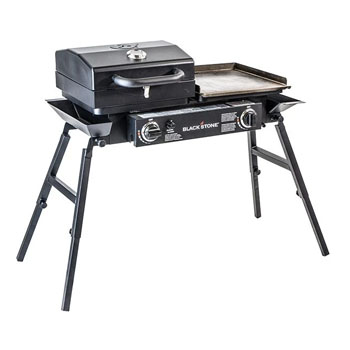 Propane Gas Tailgater – 1555
This grill is basically three cooking surfaces in one. A grill box makes it easy to cook burgers or steaks, while you fry some hash browns or eggs on the griddle. Then the direct burner allows you to cook in a dutch oven or pot. All of this can be done with 35,000 BTUs of firepower.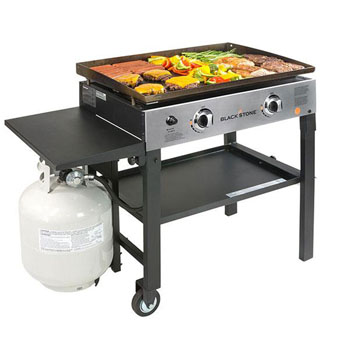 2 Burner 28″ Gas Griddle – 1605
The smallest of the standing griddles at 28-inches still packs a punch with 34,000 BTUs of power. A cooking surface of 448 square inches makes it easy to handle large quantities of food if you're cooking for a large group.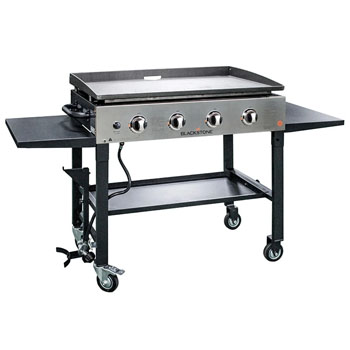 4 Burner 36″ Gas Griddle – 1565
Blackstone's largest griddle can handle it all. With 60,000 BTUs of heat and a 720 square inch cooking surface you'll be able to serve an entire crowd of people in no time. Featuring 4 adjustable heat zones you'll have complete control over your entire cooking surface.
Shop for more Blackstone griddles and accessories at Acme Tools.