Festool has upped the ante … on themselves. The release of their new TSC 55K KEB 18V cordless track saw (576717) improves on the already revolutionary TSC 55 REB track saw. The 55K offers increased performance, excellent cut quality, and improved safety features, creating a top-of-the-line tool worthy of any woodworker's toolbox.
New Festool Track Saw Tech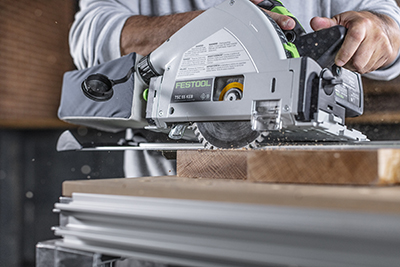 The biggest and brightest feature of the new track saw is Festool's first-of-its-kind kickback stop technology. The tech allows the saw to detect the exact moment any kickback occurs during a cut, and motor rotation will seize, causing the blade to stop immediately. Once the kickback-stop activates, the saw can be used right away, eliminating downtime and creating efficiency. The technology also creates a much safer cutting environment where you don't have to worry about the saw lurching backward during work.
Festool also released a new set of saw blades that feature thinner kerfs, so less wood is wasted and there is less dust. The blades also have new teeth geometries that improve cutting performance and lengthen blade life. With the variety of new blades, you can pair the perfect blade with your specific cutting application.
Other Features of TSC 55K Track Saw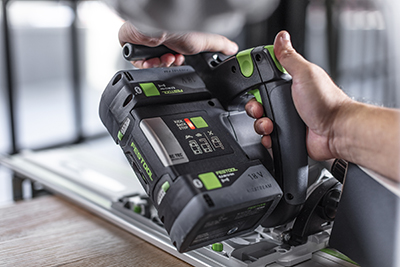 The Festool cordless track saw features an 18 volt battery power system that can run with either one or two batteries. That level of power combined with new thin-kerf saw blades creates a higher level of efficiency to cut anything from MDF to 2x4s. The track saw comes with two ways to manage dust: an onboard dust collection bag or an extractor vacuum with Bluetooth automatic switch-on. Both options ensure an almost dust-free workspace. Another unique feature of the 55K is a clip-on splinter guard that works in combination with the guide rail to allow cuts on both sides with almost zero splinters.
Shop more Festool track saws and more products for your workshop at Acme Tools and our in-depth demo of the track saw can be found on our YouTube page.
TSC 55 KEB-F-Basic Cordless
Track Saw Bare Tool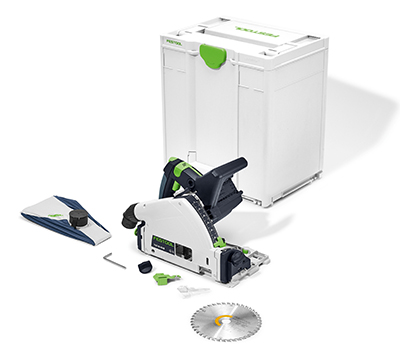 TSC 55 KEBI-F-Plus
Cordless Track Saw Kit