In 2017, Milwaukee redefined storage systems with the introduction of the PACKOUT Modular Storage System. Expanding upon the most durable and versatile system, Milwaukee announced the PACKOUT Crate. The crate is built from the ground up, providing trade-focused solutions. With the addition of the crate, the PACKOUT system now has over 19 custom storage pieces.
Milwaukee PACKOUT Crate Features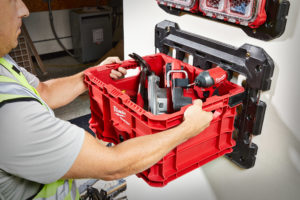 The Milwaukee PACKOUT Crate features Impact Resistant Polymer construction, which protects from job site debris. Offering maximum durability, the crate is equipped with a 50lb weight limit. Integrated weep holes prevent water from collecting in the crate, giving users the longevity they require.
Additionally, the PACKOUT Crate features versatility options such as attachment points and hanging cleats. PACKOUT attachment points allow users to attach a full-width crate to the top, freeing up space. The rear hanging cleats allow users to hang their PACKOUT product from a Mounting Plate.
Solutions
Versatility
Everyone wants an organized storage plan, but taking the time to execute the plan is often limited. With the Milwaukee PACKOUT Crate, the ability to stack and hang the storage units create the versatility you need for an open storage solution on your job site. Quickly and easily configure your best storage plan.
Durability
Creating a perfect storage plan is great, but there nothing is worse than short-lived storage units. The PACKOUT Crates are designed to be the most durable with an impact resistant body and IP65 seals. Mount or hang the crates for optimized storage space.
Packout Range
Acme Bundle
At Acme Tools, we understand how vital organization is. We've bundled the mounting plate and crate to get you started with the PACKOUT range.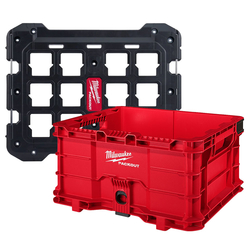 Milwaukee Packout Crate FAQs
Does the PACKOUT lineup come with a warranty?
Yes, the PACKOUT products come with a limited lifetime warranty.
How does the PACKOUT Crate attach to the Mounting Plate?
The crate has rear cleats that attach and hang from the mounting plate. There is not a locking mechanism, so it's not recommended for users to hang crates from the wall of a vehicle.
Final Thoughts
The PACKOUT system undoubtedly revolutionizes the way you organize, store, and transport tools. With unmatched versatility and durability, create the configuration that works best for you. Build your system the way you want it with Milwaukee's PACKOUT system sold at your local Acme Tools or Acme Tools online.
Follow our blog for more product announcements.