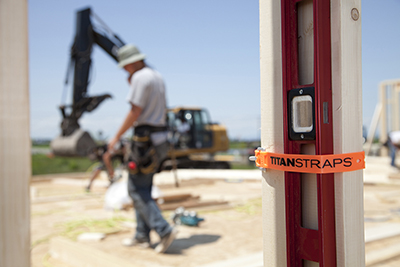 TitanStraps is looking to teach the old dog of straps new tricks. Born out of the world of hiking and adventurers, the company has evolved into a contender alongside typical tie-down tools such as ratchet straps and bungee cords. They're now being used in many different industries ranging from their bread and butter, outdoors recreation, to construction crews.
Tieing down your equipment with a rope is one of the oldest methods in the book, and later came bungee cords and ratchet straps. They're all excellent methods of securing your gear, but they all carry one drawback, time. Each of them can be tough to work with in cold temperatures and can lead to frustrations. Titan Straps are here to save the day.
How TitanStraps Work

TitanStraps are a simple tool to operate, working similarly to a belt. One end of the strap has an aluminum buckle with a hook on it, and the opposite end has several holes that can be hooked on the buckle. The UV-resistant polyurethane makeup of the straps allows them to stretch a little bit to ensure your cargo is secure. The UV resistance also adds to the product's longevity and assists with standing up to hot temperatures. On the opposite end of the spectrum, the straps will remain flexible in temperatures as low as -20 degrees. In those cold temperatures, the strap's simple design allows them to be easily released with just one hand.
For added versatility, the buckle has been built to allow the strap to be threaded through it twice to either double the strength or for when your load is too small, so you need to wrap it again to get the strap hooked. If a strap is too short, it can be daisy-chained together with another to give you more length. TitanStraps are also safer than bungee cords because they don't use hooks, so you don't have to worry about the strap unraveling and hitting you in the face.
TitanStraps Product Lineup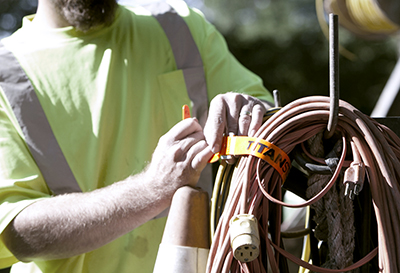 The straps are available in two different styles, the regular utility strap, and industrial straps. The regular series is available in sizes ranging from 9 to 25 inches and are perfect for organizing hoses or electrical cords or securing cargo to your ATV or motorcycle. The industrial series is wider and thicker to give you more security over your equipment and is available in sizes of 20 to 36 inches. The Utility Strap series features a working load limit of 60 pounds, while the Industrial series can handle a load limit of 70 pounds.
All straps are available in multiple high-visibility colors, such as green, yellow, orange, and blue, so you can easily find them hiding in the back of your truck or in a toolbox. They also offer variety packs, so you can have several different sizes that will work for any situation you may run into on the trail or out on the jobsite.
Titan Straps Giveaway
Interested in winning some Titan Straps and some Acme Tools Gear? Follow the instructions below and register as often as you can.
Titan Straps – Acme Tools Labor Day Giveaway
Shop all of TitanStraps product lineup for all your equipment tie-down needs at Acme Tools.
TitanStraps 9-Inch
Green Utility Strap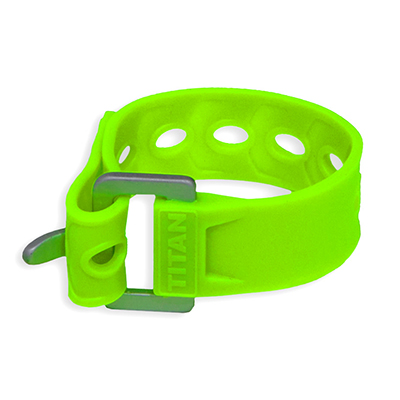 TitanStraps 36-Inch
Green Industrial Strap