It's about to get hot, and in some places, really hot. It would be nice if you could shelter inside all summer. That's not possible because one, you have things to do, such as work, errands, kids' sports, and so on; second, that's just not any fun. Life doesn't need to be that way, though. Summer can become fun again.
There are products out there that can help make the heat more bearable and assist in avoiding heat illness. Our guide will showcase a handful of helpful items across four categories that will keep you having fun while you watch everyone around you sweating the summer away.
Air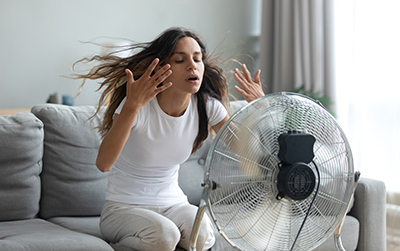 Natural wind is a great way to keep temperatures down, but it's not necessarily windy all the time. Wind also can't be controlled, and you might find yourself nearly blowing away like dust in the wind while trying to enjoy your favorite summer activity. That's where fans and misters come in to give you more power over the airflow around you.
Fans
Fan technology has come a long way from the days of a box fan or ceiling fan in your home. There are fans that hang around your neck, fans for your desk that are powered via USB, and even mini fans that you can plug into your smartphone.
One of the more efficient options is still a traditional box or floor fan. They pump out the greatest amount of airflow and are perfect for keeping large areas cool, such as a jobsite inside a home or a workshop. They're various fans from Air King, Master, Schaefer, and many more that range in size from 20-inches to several feet.
One problem with a traditional fan is they're large and usually require electricity, which isn't always an option while you're watching your child's football game. Enter the cordless fan. Several battery-powered options from some of the top brands like Milwaukee, DEWALT, Klein Tools, and Makita are relatively small and weigh less than 10 pounds.
Misters
Misters take the cooling power of a regular fan and add moisture for additional cooling. They work best in areas that don't have a lot of humidity; although they can be used in humid climates, if you already feel wet, you may not want to add additional moisture.
Mister styles range from handheld battery-powered to corded industrial-sized fans from the best brands, including EGO, LB White, Wilton, and Schaefer. The EGO POWER+ 18-Inch Misting Fan is relatively small but still large enough to cover a 540-square foot patio. If you need a larger option, try the Wilton Cold Front Atomized Cooling Fan that is wheeled so it can easily be transported around the jobsite and can cover up to 3,160 square feet.
Shade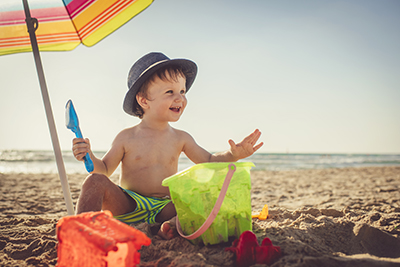 Shade is one of the simpler ways to stay cool during hot summer months, and it's free. Trees are a great source of shade, but the problem is it's not always readily available. That's where you may need to turn to manufactured shade, which can be enough to cover a lone person or a whole group of people, depending on your preference.
A hat in the wintertime keeps you warm by protecting your ears and the top of your head. In the summertime, a hat, or baseball cap, does the opposite. It keeps the sun out of your eyes but also produces enough shade for yourself, so your face doesn't sweat as much. When searching for that perfect hat to wear on a construction site or just while relaxing outdoors, look for something lightweight and breathable, so air can get through the material, keeping you cool.
It may not be a common thought, but an umbrella can serve a second purpose other than keeping the rain off your head. An umbrella is an excellent source of shade that you can bring with you anywhere you go, although some options can be too large to carry with you. There are traditional handheld umbrellas, large stationary options, and even small umbrellas you can attach to a chair to give you a little bit of shade. A good option is an Ergodyne SHAX 6199 Lightweight Work Umbrella W/Stand. The umbrella features a vented top that enhances airflow and has protective PU and UV coatings for shelter from sun and rain.
A canopy, or pop-up tent, is a great way to provide a large amount of shade for many people. They work great at a farmers market where you need to ensure your booth and products stay cool and out of direct sunlight or if you're hosting a family gathering and want to give shade to your guests. The Ergodyne SHAX 6000 offers a canopy that provides maximum airflow while still giving you the shade you need. Some options also include walls if you need protection from wind.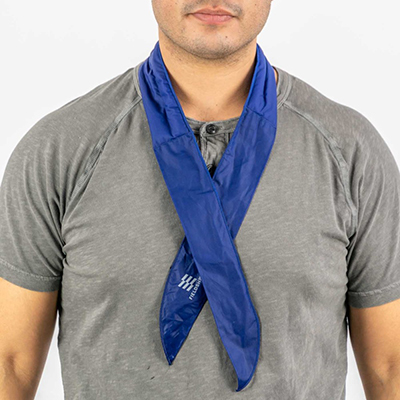 Heat leads to sweat which leads to wet clothes, and there is no easier way to feel uncomfortable while outside. Instead of traditional clothing, you can try cooling apparel that can be both fashionable and comfortable simultaneously. There is a wide range of cooling apparel products that can be applied in almost any scenario. There are shirts, vests, tank tops, jackets, neckbands, and so many more.
Shirts/Tank Tops/Vests
Keeping your upper body cool will help keep the rest of your body temperature low. Via more breathable fabrics and several types of technologies, a shirt can be more than a shirt. There are several options for keeping your upper body cool, including long-sleeve shirts, tank tops, and vests. Many shirts are available with moisture-wicking technology that'll keep you drier throughout the day. Mobile Cooling offers tank tops and shirts that have Sunsheer technology that provides defense against UV rays. Their Pro Vest features a Hydrologic Quilted Evaporative Cooling Fabric that can be wetted down and then worn for all-day cooling.
Neckbands/Bandanas/Headbands
The second area of your body to focus on is your head and neck area. Protect yourself with a neckband, bandana, or headband. A neckband or headband can easily be soaked in water and placed around your neck. They work by pulling body heat away and maintaining a safe internal temperature. Many bandanas like ones from Klein Tools work similarly to cooling shirts with moisture-wicking technology that help evaporate sweat faster. Many of these options work great for those working in construction that wear a hard hat often.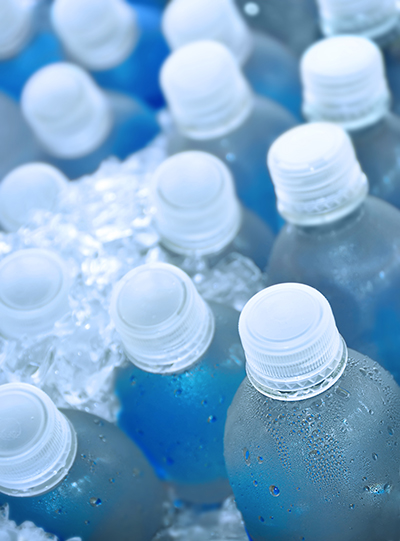 The oldest trick in the book for staying cool and preventing heat illness is staying hydrated. Water lowers your internal temperature and replaces the fluid you're losing through sweating. So why not carry water with you on the go with a cooler, tumbler, or hydration pack.
Obviously, you wouldn't drink out of a cooler, but a cooler is a great option for storing water bottles and keeping them cold while you're at the beach or party. There are coolers out there to fit any need, big coolers, small coolers, and even cooler backpacks. Cooler backpacks are great for hiking, and you only want to carry a few bottles of water. Your cooler size depends on the size of your group. A small cooler, of course, is good for a few people, but you'll need a larger one for an event like a barbecue.
Tumblers
Tumblers help hydrate on an individual scale. Think of them like single beverage coolers. Most feature a double-walled construction that provides unmatched ice retention, so your drink will stay cold for hours, sometimes days. The good part about tumblers is they're easily portable and refillable so that you can stay hydrated all day. Tumblers have experienced a huge uptick in popularity and are available from some of the top brands in the industry like DEWALT, Milwaukee, and YETI.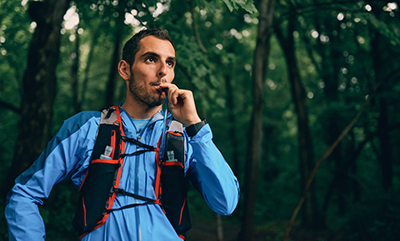 A hydration pack is like a backpack that only carries water, and you drink the contents via a tube. These packs can hold a large amount of water for hours at a time, so they're great for hiking or while working construction where there aren't any water sources. Some packs provide additional options, such as vented should straps and additional storage compartments for maximum comfort and versatility. There are even hi-vis options for those working in the construction industry, so you can be easily seen.
Shop all your summer needs to help beat the heat this season at Acme Tools.