It's Finally Here
You asked for it, and Milwaukee Tools delivered: introducing the brand new Milwaukee M18 FUEL 16″ Chainsaw Kit! This all-new cordless saw delivers power rivaling gas models with all the innovation and benefits of an electric design.  
First Impressions
Let us just start by saying: this thing is a monster. The Milwaukee Fuel brushless motor packs a real wallop, putting out the same cutting ability as a 40cc combustion engine. You will effortlessly slice through railroad ties, mid-sized trees and more. Not to mention that you will be able to get up to 150 cuts on a single charge, so you will be able to get all your work done and still have battery left to spare.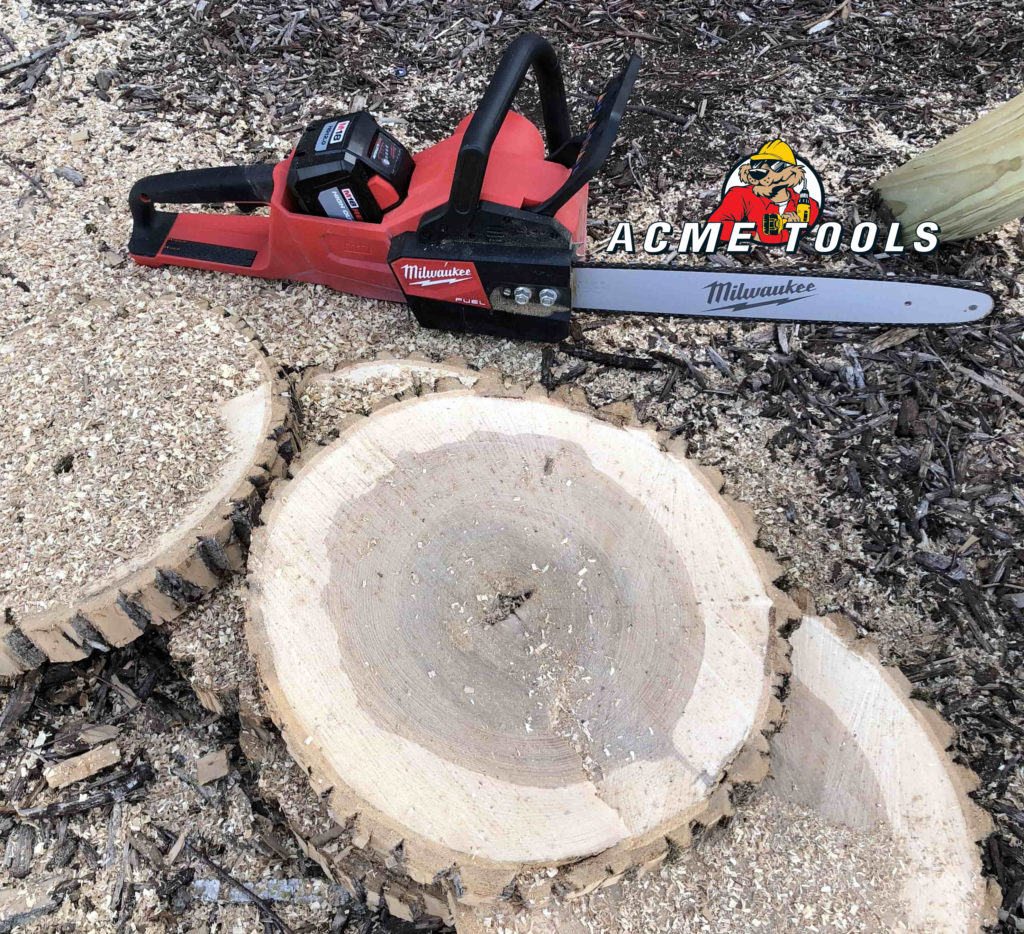 Speaking of batteries, the new cordless chainsaw kit includes the revolutionary M18 12 amp-hour battery. This is the biggest battery Milwaukee has released yet, and the longest-lasting 18v battery available to date. It is also compatible with all your other Milwaukee M18 tools, so you can get this astounding runtime with any cordless task you need to complete.
A Saw Walks Into A Bar
The 18-volt Milwaukee high-output batteries pull the chain around a 16-inch Oregon bar, making it perfect for all sorts of applications. From yard work, jobsite cleanup, trimming, pruning, limbing, and countless other uses, this saw is the right size for you. The bar remains snug during tough cuts too, courtesy of dual studs holding it in place.  
To ensure that your experience while cutting is as smooth as possible, an integrated automatic oiler keeps the chain lubricated. This increased productivity as well as safety, by preventing too much heat building up during strenuous tasks.
Like A Hot Knife Through Butter
The new Milwaukee cordless chainsaw is superbly easy to start. The electric motor starts with a simple trigger pull, without having to tug a heavy pull-cord or deal with flooding on cold days. If you need to do work in a cold climate, this will save you endless frustration on frozen mornings. At just under 14 pounds, you will also have no trouble maneuvering for cuts in any position.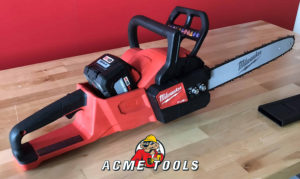 The blade reaches top speed within less than a second of pulling the trigger, so you have less downtime while on a busy schedule. A variable-speed trigger allows more control over the cuts, so you always have the right cutting rate for the task at hand. Above that, RedLink Plus Intelligence keeps the performance steady during taxing work while ensuring the motor doesn't overheat or break down.
Final Thoughts
This tool has really been a long time coming. For those who have been patiently standing by for a Milwaukee chainsaw, this is truly the tool you've been waiting for. It is light enough for utility workers, homeowners, and any other medium-duty tasks, but strong enough for use at a professional level. As a new addition to the Milwaukee M18 line, it is also fully compatible with all your other cordless tools, including the new High-Output battery you get with it. If you're having trouble deciding on a cordless chainsaw, let the 2727-21HD make the choice a little bit easier.
Coming Soon
Now available to pre-order and scheduled to ship this summer.
2727-21HD includes (1) M18 FUEL 16″ Chainsaw, (1) REDLITHIUM High Output HD12.0 Battery Pack, (1) M18 & M12 Rapid Charger, (1) 16″ Oregon Bar and Chain, (1) Scrench