Being a new homeowner is an exciting time filled with many new responsibilities. While you can pay someone for outdoor maintenance, you can do it yourself, usually for much cheaper. Here is a list of outdoor power equipment and tools we recommend a new homeowner should have to keep your yard beautiful and boost curb appeal.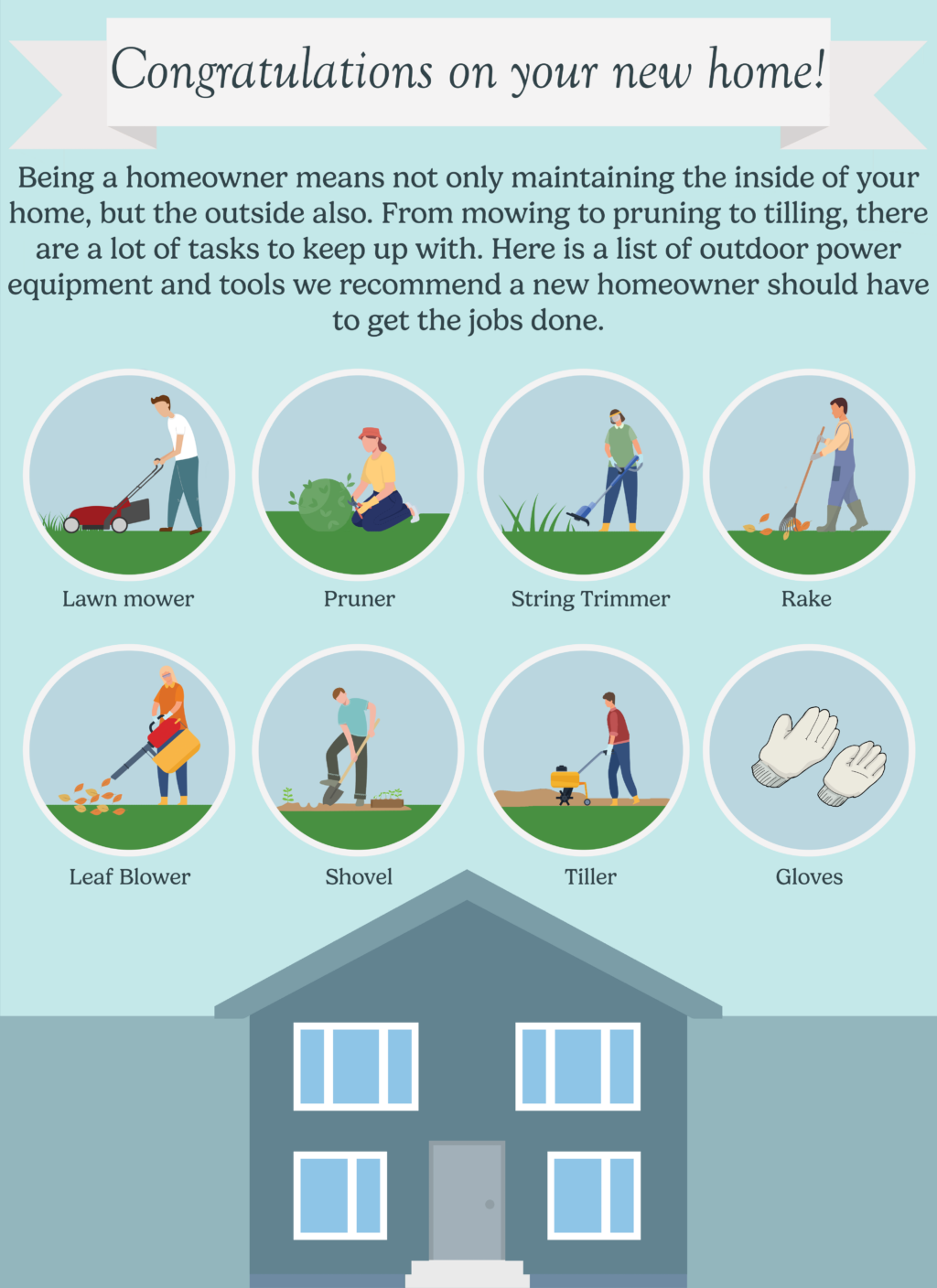 A good lawn mower makes all the difference in keeping your yard from looking overgrown and unkept. There are many mowing options depending on the size of your yard, such as push mowers, self-propelled mowers, and ride-on mowers. You must also choose between an electric lawn mower or gas powered lawn mower. Check out our Electric vs Gas Powered Lawn Mower Comparison Guide to find the right mower.
If you decide on a gas powered option, remember to pick up a gas can.
Another way to keep your property looking nice is by pruning dead leaves and branches from shrubs and trees. Pruners, or pruning shears, are multifaceted tools that keep your landscaping orderly. There are traditional, hand powered pruners, but there are also battery-operated pruners like the DEWALT 20V MAX* 1 1/2″ Cordless Pruner Kit. If you're a new homeowner, be sure to add a pair to your tool arsenal.
Having a nice yard doesn't end with mowing. Trimming the lawn and edges gives it a professional look that your neighbors will envy. A string trimmer, sometimes called a weed whacker or weed eater, can reach spaces that mowers can't. Like lawn mowers, string trimmers come in electric and gas powered options. To decide what kind of string trimmer is right for you, here's an article to help you out: Choosing a String Trimmer.
Remember to purchase some extra string trimmer line!
Rakes are uncomplicated tools used for various tasks like raking leaves, spreading mulch, and aerating soil. Keep your yard looking tidy by clearing debris from your yard or leveling out areas of the lawn. Aerating soil and spreading mulch ensure that plants have ideal growing conditions. There are many kinds of rakes; determine what you'll use yours for before making your final purchase.
Raking leaves can be time-consuming and exhausting. If you have a larger yard or need to clean your lawn more often, a leaf blower is a simple tool that makes lawn clean-up easy and quick. Cleaning leaves from the yard, clearing lawn debris, and removing grass clippings after mowing are only a few of the uses offered by a leaf blower. Blowers, another word for a leaf blower, can be corded, battery powered, or gas powered. Refer to The Ultimate Leaf Blower Buying Guide article for an uncomplicated guide to buying a leaf blower.
There's a plethora of tools you can use to dig a hole in your yard, but the most common is the shovel. Dig holes for planting shrubs or flowers, prepare your yard for other gardening projects, and use them for outdoor construction projects. If you live in an area that gets snow, you'll also want a snow shovel to clear your walkways and stairs. If you need help picking one out, here are the Top-Rated Snow Shovel Brands of 2022.
Gloves are great for preventing splinter, blisters, dirt, and chemicals making them a must-have for gardening and outdoor projects. Find a pair of all-purpose gloves that you find comfortable and can last years with proper care. A tight-fitting glove can help prevent them from getting stuck in outdoor power equipment.
When planning a garden for your new home, a tiller, also known as a rototiller or cultivator, is the perfect tool to get you started. Tillers loosen and mix soil to get your garden ready for planting. Look at our article What to Consider When Purchasing a Garden Tiller for an in-depth guide on picking the right tiller for you.
Your tool and outdoor power equipment collection will grow through the years, so don't worry about purchasing these all at once. Decide what is necessary for where you live and what projects you want to start; for example, if you move somewhere snowy, you'll want to secure a shovel before it snows, or if you want to start planting, a tiller might be a priority for you.
Check out power tools, outdoor power equipment, accessories and more at Acme Tools.