Milwaukee Tools released their M18 Gen 1 16ga Finish Nailer several years ago and although the tool has been a solid performer, Milwaukee did what they do best and reached out to the users of their tools and listened. The 3020-20 M18 FUEL Gen 2 16ga Straight Finish Nailer is the result of an amazing partnership between Milwaukee Tools and tool users.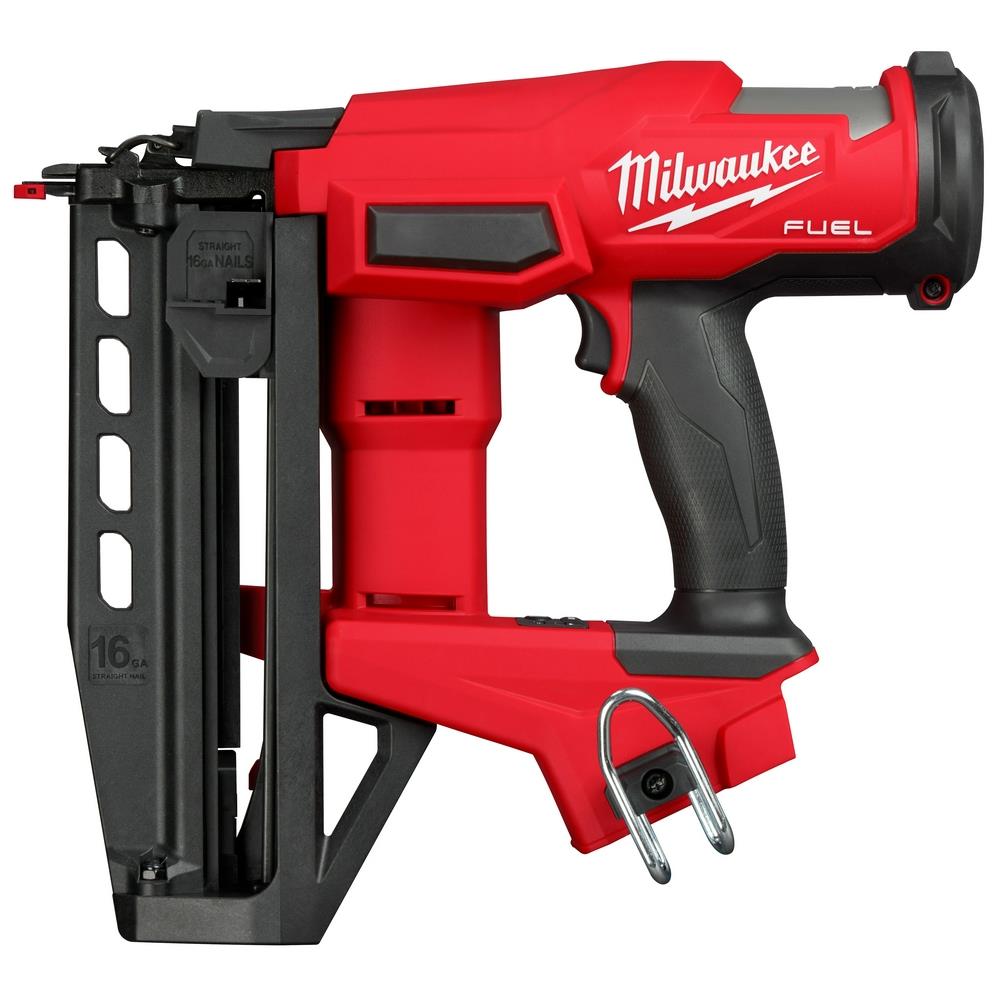 Who are the main users of a 16ga Finish Nailer?
Finish Nailers are very common in most tool users' inventory, but they were designed to offer functionality to Finish Carpenters, Remodelers, General Contractors, and Facilities Maintenance & Repair specialists. The size of the 16ga nail offers these trades superior holding power without leaving a large hole that needs to be filled.
What improvements were made in the Gen 2 16ga Finish Nailer?
Users let Milwaukee know that they wanted specific improvements to allow them to do their job more efficiently while maintaining their level of quality. Here is what they asked for and how Milwaukee responded.
Consistent nail driving with clean holes in all types of material.
Milwaukee responded by redesigning the driver mechanism to match the nail head more closely, resulting in a best-in-class nail hole size. Along with the redesigned driver, the Gen 2 nailer has a Nitrogen Air Spring Mechanism that offers pneumatic-like nailing power and speed with a total driving range of 1″ through 2-1/2″ in soft and hardwoods.
Offer the performance in a more compact size and with less weight.
The redesigned head of the Gen 2 16ga Straight Finish Nailer allows the user to get into corners better than any cordless 15ga or 16ga finish nailer. The redesigned contact bracket gives a more accurate nail placement, allowing you to get the tool where you need it more quickly. The device's weight has been slimmed down, and by pairing this tool's improved motor and firing system with the Compact Line of M18 batteries, users will notice the reduction in weight and better overall feel.
Increase the speed between pulling the trigger and firing the nail.
Cordless Nailers often suffer in performance because of tool ramp-up. The 3020-20 Finish nailer fires instantly once the trigger is pulled, thus eliminating ramp-up time. This new tool can fire at 3 nails per second, which is not a typical application, but it is nice knowing that the tool will be ready when you are. Milwaukee designers also assisted in the speed of nailing by incorporating the tool's design into the formula. The Precision Point Tip gives users a clear line of sight to the material and where the nail will go, so the time before you pull the trigger is also reduced.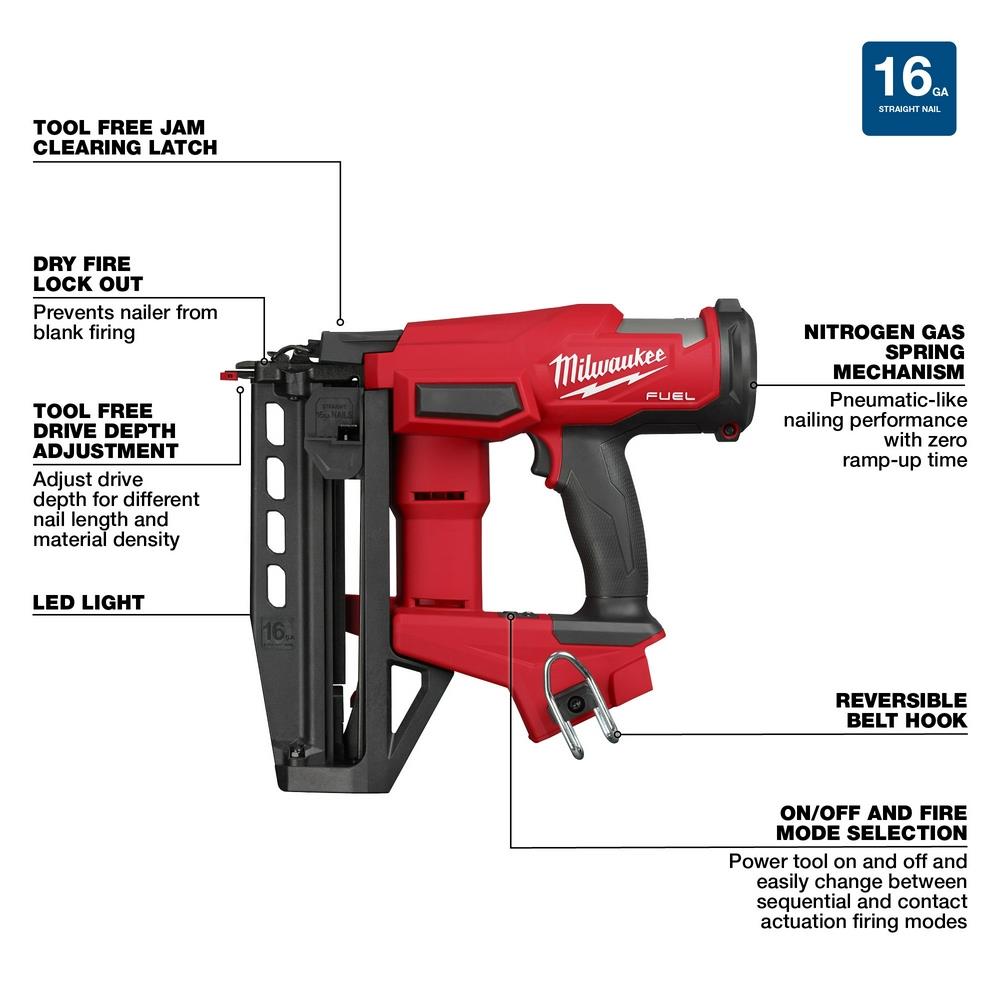 M18 FUEL Gen 2 Finish Nailer Commonly Asked Questions
What nails do I need to use for this tool? The Milwaukee 3020-20 M18 FUEL Gen 2 16ga Straight Finish Nailer will fire any well made Collated 16ga Straight Finish Nail that is 1″ through 2-1/2″ in length.
Are ALL 16ga nails the same? No, 16ga nails come in a straight or angled configuration. This nailer will only take the straight configurated nails.
What length of nails can I use in this tool? The 16ga finish nailer will shoot nails that are at least 1″ long and as long as 2-1/2″.
What battery should I use? The tool is best suited for use with the M18 REDLITHIUM CP2.0 Battery but ANY Milwaukee M18 battery will fit on it. The CP2.0 battery will shoot 700 nails and although larger batteries will allow you to shoot more nails between charging or changing the battery, they will also add extra weight.
Why does the tool turn off automatically? Like other Milwaukee Finish Nailers, this tool will turn off after 120 minutes (2 hours) of inactivity to preserve battery life.
What should I do if my nailer jams? As with many nailers, an occasional jam may occur. Please follow the nail jam clearing guide located in your owners manual to assist.
Do I need to purchase fuel cells or oil for my nailer? No, the Milwaukee 3020-20 is a fully cordless nailer that runs on a M18 Battery only and it is oil free. All you need is the nailer, nails, a battery, and occasionally a charger to charge your battery.